Hillcrest HS announces upcoming "Meet the Teacher Night"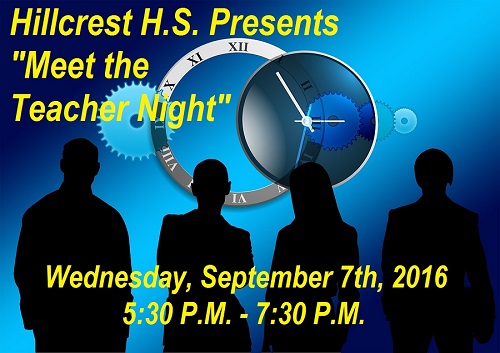 On Wednesday, September 7th, 2016, Hillcrest High School is holding a "Meet the Teacher Night" from 5:30 P.M. to 7:30 P.M. in the school gymnasium. This event gives parents and guardians of students the opportunity to meet their students' teachers in an informal setting. Teachers will be able to share explanations of course content and requirements as well as expectations for academic performance. Parents and guardians will also have the chance to to meet the academic tutors, activity sponsors, and athletic coaches.
According to Mr. Keith Anderson, District Fine Arts Supervisor, "This activity represents an excellent opportunity for teachers and parents to make an early connection. It is imperative that parents and teachers work together to have a positive impact on students' academic successes."
Parents and guardians are invited to attend and enjoy some refreshments with the Hillcrest HS faculty and staff.    
For more information, contact Hillcrest High School at (708) 799-7000 or visit the school website: http://bhsd228.schoolwires.net/Page/2626