Hillcrest Hosts Meet the Teacher Night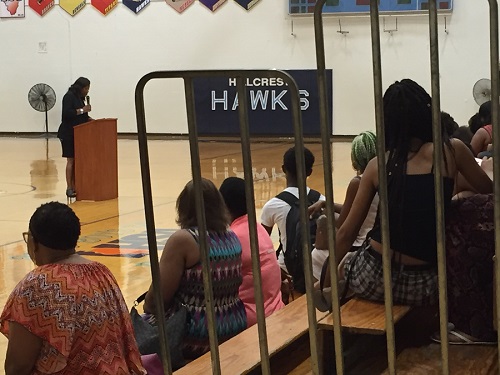 On Wednesday, September 7, 2016, Hillcrest High School hosted a "Meet the Teacher Night" to welcome Hillcrest families to the building. Parents, guardians, and families of Hillcrest students were invited to  walk their students' schedules and meet teachers, staff, and administrators during the visit. The evening kicked off with Principal Dr. Renee Simms welcoming the families to Hillcrest and thanking them for participating in this back to school event. Dr. Simms also thanked the many staff and faculty members who volunteered their time to make the evening a success.
Afterwards, Dr. Simms remarked that the event was an excellent opportunity for parents to make connections with the faculty and staff and to understand the curriculum, policies, and procedures of the students' Hillcrest experience.
Several families expressed appreciation for the chance to see where and how their students spend their time at Hillcrest.      
Hillcrest High School looks forward to more events in the future which welcome members of the Hillcrest family.