Historical Finish for Hillcrest Girls Cross Country Team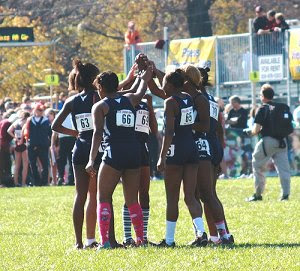 If you believe, you will achieve!
The Hillcrest Girls' Cross Country finished the season on a great note finishing seventeenth in the State of Illinois! Hillcrest also had its first All-State Athlete in Cross Country, Keyanna Dennis. Dennis finished twentieth at the State of Illinois Championships held in Peoria to earn herself All-State honors. Keyanna finished the season as the South Suburban Conference Champion, Crete Monee State Regional Champion, and a second place finish at the Niles West State Sectional.
The Hillcrest girls finished the season in fashion!
All of the Hillcrest runners ran personal best times at the State Championships. Running downstate for the Hawks were; Keyanna Dennis, Brittany Letts, Delvina Harris, Asia Lockhart, Iesha Carr, Joann Weddington, and Mel Hawkins.
"It's been an honor coaching such wonderful and talented young ladies. I'm already looking forward to next year," said Coach David Braden, head coach of the Hawks and S.S.C. coach of the year.
Congratulations on your historical finish! You are now the best cross country team in Hillcrest High School History!