Hillcrest Students get Schooled on Pork Anatomy and Production
Culinary Arts and AP Anatomy/Physiology students got schooled on pork anatomy and production last week at Hillcrest High School.  Two Culinary Arts teachers from Hillcrest, Jean Sweeney and Christina Botica, applied for a grant from the Illinois Pork Producers Association.  Their grant application included the breakdown demonstration of a pig, focusing on anatomy, primal cuts and cooking methods. Jean Sweeney invited two Executive Chef Instructors from Moraine Valley Community College, Dean Eliacostas, Program Coordinator for Restaurant Management and Co-Owner of Real Urban Barbecue and Lampros Tzimas, Assistant Professor of Restaurant Management,  to Hillcrest High School to present the pig breakdown demonstration.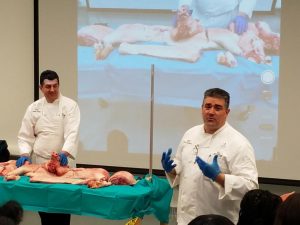 As a cross curricular collaboration, Mrs. Sweeney invited Mrs. Allison's Honors Anatomy & Physiology class to the demonstration. The Honors Anatomy curriculum includes a fetal pig dissection. "The human anatomy students were able to reflect on the comparative anatomy of the skeletal pig with that of the human skeleton," said Mrs. Allison. Students shared questions with the presenters in reference to differences in the number of bones in the pig's vertebral column versus the human. They also compared the number of bones with which the pig uses to walk. Students were well informed and engaged throughout the presentation.
"This was a unique opportunity for Culinary Arts students and Anatomy & Physiology students to come together to learn about pork," said Dr. April Nykaza, Supervisor of CTE education for Bremen District 228.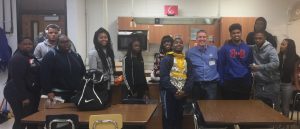 In addition, Mike Haag, President Elect of the Illinois Pork Producers Association, came to Hillcrest later in the week to talk to the students about pig production in Illinois.  The students had intriguing questions for Mike, who has his own pig farm in Southern Illinois.  Mike shared with the students the birthing and rearing process of the pig production industry in Illinois.  Mike indicated that "we were really impressed with your unique application and enthusiasm for educating your students on pork production and food products."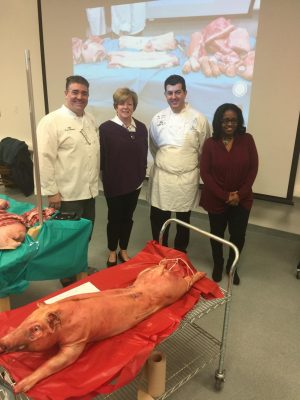 "Overall, this was a fantastic learning opportunity for our students to share in this weeks presentations.  It's important for our students to understand and appreciate where their food comes from and why certain parts of an animal are  best prepared a specific way to insure a tender and palatable finished product," said Jean Sweeney.  Each presenter gave students insight into the careers in culinary arts and agriculture.
Rickiesha Echoles, a senior at Hillcrest and looking to go to culinary school next year, said, "I really enjoyed learning how our food comes from the farm to the store then to our table."
If you are interested in learning more about the pork grant opportunity, contact Mike Haag at [email protected] or visit www.ilpork.com.