Hillcrest's own will display artwork at the Museum of Science and Industry
Hillcrest's very own Kennedy Warfield has been selected to have her artwork displayed at the Museum of Science and Industry alongside her teacher's and student teacher's work!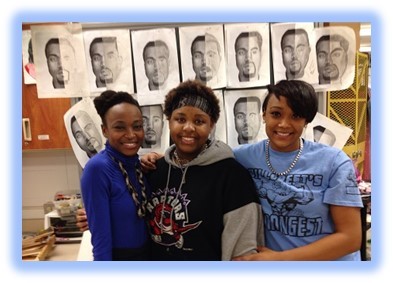 P. Stevens, Hillcrest High School Publicity Director
January 9, 2015
All three women, Mrs. Jamilah Adebesin-Mason (Hillcrest Class of 2003),  Kennedy Warfield (Hillcrest Class of 2015), and Student teacher Ms. Camille Scott (Hillcrest Class of 2010) will have their work displayed downtown at the Museum's "Black Creativity Juried Art Exhibition" which runs from January 21- February 22, 2015.
Their pieces were chosen over emerging artists and professional artists from across the country in adult and youth categories to be displayed at this amazing part of history. Warfield will display four original art pieces during the exhibit.
Since, 1970 , the Museum of Science and Industry has hosted the "Juried Art Exhibition." It is the nation's longest- running exhibition of African-American art, featuring an eclectic collection of approximately 100 new pieces each year in a dedicated gallery open to guests.  The exhibition is part of the Museum's Black Creativity program, which showcases African-American achievement in a variety of scientific, artistic, and technological fields.
"
They are both amazing young women and talented artists."
— Mrs. Adebesin-Mason
"I am so proud of Kennedy and Ms. Scott. They are both amazing young women and talented artists. They deserve to be recognized for all their dedication and endeavors. The Hillcrest Fine Arts Department is truly shining," said Art teacher, Mrs. Adebesin-Mason.
All three artists are scholars of the Hillcrest High School Fine Arts Department.
To find out more about the Juried Art Exhibit or how to bring your students to visit this amazing exhibition visit msichicago.org or contact Mrs. Adebesin-Mason at [email protected].