Hillcrest Presents Black History Month Program
February 23, 2015
During 2nd and 3rd periods on Friday, February 20th, Hillcrest High School presented the "Inspired by Our Past – Committed to Our Future" program in honor of Black History Month. Student, Staff, & Faculty all participated in the program which featured several special guest speakers.
---
Guest Speakers included: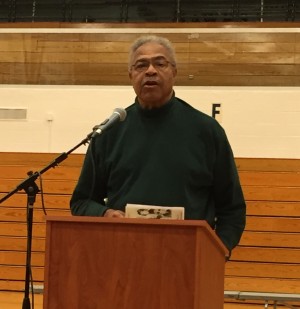 Rev. Wheeler Parker Jr. is a highly respected minister and community activist in Summit Park, IL, Wheeler Parker is a living witness to one of the most sensational cases in the American Civil Rights movement.
In 1955 Wheeler, with his cousin, Emmett Till, traveled from Chicago to Mississippi for a summer vacation to visit their grandfather, Moses Wright. While in Mississippi, Emmett Till was murdered after speaking to a white woman in a store, an event that changed Wheeler Parker's life forever. Rev. Wheeler Parker talks with power and emotion still fresh about those tragic days in American history.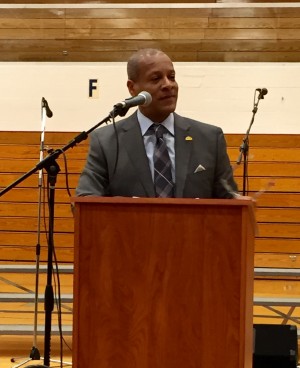 Vernard Alsberry, Jr. is a Physical Therapist Assistant licensed in Illinois and Indiana. He is the president and owner of Calm, Incorporated. Vernard also holds a Bachelor's degree in Health Administration and Master's degree in Public Administration. Mr. Alsberry has been in healthcare as a practitioner and administrator for more than twenty years, seven of those years served in the United States Air Force. During his career, Vernard has worked in all aspects of sports and rehabilitation medicine. He is an active member of the American Physical Therapy Association and the American Academy of Physical Therapy.
In addition to serving as the Village President of Hazel Crest, Illinois, Mr. Alsberry serves as the Vice President of the South Suburban Regional Mayoral Black Caucus. He is also a member of the Homewood Rotary and the South/Southwest United Way. Vernard has been a resident of Hazel Crest for 18 years. He is married and has been blessed with nine children.
Napoleon B. Harris III serves as the State Senator from Illinois' 15th District, representing parts of Cook and Will Counties. He was born Feb. 25, 1979, and grew up in Dixmoor, Illinois. Harris was an honor student and a tri-star athlete at Thornton Township High School in Harvey. He earned a bachelor's degree in communications from Northwestern University. Later, Harris received his postgraduate certificate from Northwestern Kellogg's School of Business Management.
Harris is a former football player. He played college football at Northwestern and was drafted by the Oakland Raiders. He was the Raiders' starting middle linebacker in Super Bowl XXXVII. Harris also played for the Minnesota Vikings and Kansas City Chiefs, for a total of seven NFL seasons. Senator Harris married Nicole Bunton in 2006; they have two sons—Napoleon Harris IV and Noah, and one daughter—Nahla.
---
Some students who attended the program wrote these reflections:
Every year Hillcrest celebrates Black History Month by hosting an assembly, but this year has been the most diverse and entertaining in my opinion. From listening to an activist to hearing the choir sing a beautiful song, the whole event was very memorable. I felt on edge the whole time I was in my seat. Because of my personality, I like to do homework, so if I can slip a few minutes in the assembly when nothing was happening, I would do it, but in this assembly, I couldn't do that because something was always happening. I like that the assembly was very interactive, and my favorite part of this assembly was how involved the students were. In recent years, there would be guest speakers or performers that would take up the majority of the assembly, but this year, although there was a guest speaker, there were several other activities that received somewhat equal recognition, and the students were either hosting the event or were playing major parts in each of these events. Unfortunately, the assembly was unfinished because the bell for fourth period rang. Although I felt like there wasn't enough time to cover everything, the assembly, in my opinion, was definitely one of the best assemblies I've witnessed during my time at Hillcrest.
Even before I found a place to sit, I could hear music playing. It was different because it wasn't the Hillcrest band playing, and the music seemed like jazz; I noticed Mr. Shehan on his guitar along with a few others. As everyone settled down, we were asked to sing along to "Lift Every Voice and Sing." Then, Mrs. Simms introduced the guest speaker; he talked about himself and how important education was. He said that even though he graduated from Northwestern, he actually learned more about himself and life at another university, and he thanked a primary school teacher for believing in him; also, he said he made a poem about stars and that we are the stars that shine in his poem. Afterward, Flight Club members came up all at once; they said, "People you should know." After they said this, one person would come up to recite a poem about a person. After a person finished, the group would repeat, "People you should know," and another would come up until everyone of the Flight members finished. Each person had a historical black figure to talk about such as Rosa Park; this is one of my favorite because the words were very lyrical but also meaningful.
After the activist and Flight Club went, a few individuals, choir and band performed. Two students I wanted to point out were very brave because they performed by themselves. One was Nylle, who recited a poem from Maya Angelou, and another was a male student who performed a dance by Michael Jackson; both did a wonderful job. I was very moved because when the music momentarily stopped , the crowd was singing the song, so he could finish dancing. Afterward, the choir performed a beautiful song called "Glory" by John Legend and Common. As the choir finished, the bell rang, so the band were told to perform as the crowd was dismissed although I felt that the band should have been given the opportunity to finish. Overall, it was a wonderful and exciting experience, and I hope that Hillcrest will have future assemblies similar to this one.
(Kim Chi Dang: Class of '15)
---
The Black History Assembly was truly a great thing to witness and be a part of. The assembly not only showed and educated us about where we as African Americans came from and the obstacles we endured as a people but also it showed us what we're capable of as of present time, and what we could be capable of in the time to come. As a young black African American women, I feel like I have a lot to offer the world, and now I hope more of my peers feel this way too.
Hearing the stories from Emmett Till's cousin Rev. Wheeler Parker Jr. made me think about how much the world has changed. Many young Black people don't understand that all of these horrible things and wrong-doings that happened to our people were not that long ago. Less than 50 years ago, our grandparents were living through these tragedies, and as African Americans, we were denied education and the right of self-expression. So to be in a high school assembly, seeing my teachers and peers show off their talents was utterly amazing. Hearing the Flight Club's original poetry, hearing the tribute to Maya Angelou, hearing our band and choir play beautiful music, seeing the movie "Kings and Queens" by our film club, and watching that wonderful tribute to Michael Jackson was more than incredible. I think this assembly was the best I've seen in my whole high school career. I'm so glad to have been a part of something this great.
(Kennedy Warfield: Class of '15)
---
The assembly today showed us, African American teenagers, what was done to get us to where we are today.  African American History month alone is a reflection of equal rights, slavery, jobs, etc.  This month is used to celebrate those who fought for our equality and human rights.  The assembly today reminded us of these things.
The tribute to Maya Angelou was a poem she wrote "Still I Rise." In this poem she says whatever circumstance she's in, she will still rise.  Nobody and nothing will bring her down because in the end she will still rise.  This poem was an inspiration to Black people in that time and still is for Blacks and others now.  This poem encourages me to do better in school and to help better myself.  Maya Angelou inspired generations of people and she inspired the world.
The tribute to Michael Jackson was a dance to the song "Man in the Mirror" by Everett Little. This tribute shows that there are many styles to bring inspiration to people.  Not just poems and activism, but also singers.  In this song he says "If you want to take make the world a better place, then take a look at yourself and make a change."  Michael Jackson was the right person for this song because he was a famous singer and people looked up to him and still do.
The assembly was a reminder of the hardships we went through.  It reminded us to keep our heads up and not to give up and inspired us to do and want better.
(Teri Easter: Class of '16)
---
The Black History Month Assembly was a very uplifting experience and an honor to watch.  There were teachers who knew how to play instruments playing jazz music… The guest was talking about what it takes to be successful and how we should take school seriously. He was a former football player (linebacker). He shared his life story, explaining how he grew up in poverty and how he had to strive to rise to the top. With help from the teachers, he knew that through education, he would achieve.
After his speech, the choir sang two good songs. Then, one of Hillcrest's students spoke one of Maya Angelou's speeches in tribute to her. However, my favorite part of the event was when Everett Little danced to Michael Jackson's song, "Make a Change". His performance was exciting, and it brought the crowd to their feet. Many people recorded his performance. The event overall was successful and a pleasure to watch.
(Aldreiron Smith: Class of '16)
---
I really enjoyed our school's Black History Month Assembly. I was able to attend both the 2nd and 3rd period assembly. One of the things that I enjoyed was the guest speaker, who reiterated the events that happened on the day that Emmet Till got kidnapped and murdered. The guest speaker was the cousin of Emmet Till. I was deeply moved by his speech and message that he was trying to convey to us. I almost ended up crying, because he seemed so emotional with his speech regarding Emmet Till. He had a lot of courage to talk about that tragic day of his life. His message was that our generation needs to know our race's history. We need to know how those people in our history have struggle and lost their lives trying to make sure that we had the opportunities and luxuries that are available to us till this day. We need to appreciate it.
Another thing I really enjoyed was being able to be a part of the Black History Assembly. I was a part of Hillcrest's Concert Band, and we played a piece called, "The Saints Go Marching In." This song had its first grand appearance when Louis Armstrong performed it in 1938. The song, today, is played at funerals by 2nd line bands. The purpose of the song is to uplift the spirits at funerals. This song is wide-known down in the southern states, mostly in New Orleans. When I played this song, I felt like I was reliving in the shoes of past performers who performed this song. This song made me feel like I was actually down in New Orleans. I really respect the song's purpose and style.
(Constance McCullah: Class of '15)
---
The Hillcrest Black History Assembly was split into two separate classes and periods. The 2nd period Black History Assembly was for the lowerclassmen, while the 3rd period assembly was for upperclassmen. I had the chance to attend the 3rd period assembly, which was absolutely stunning!
There was a male speaker who really stood out to me, with a strong message of how we as Black people should strive to do better and not let anything stand in our way… When he reflected a tad bit on his past, he mentioned 3 pairs of pants and 4 shirts. That hit me hard because I was once in that position where I literally had two pairs of shoes, 7 shirts and 5 pants throughout the ENTIRE school year. Back then I held my head up high, and continued to strive for success which is why I said this gentleman truly stood out to me because our situations were similar.
The Hillcrest Choir, Band, and Art Club made this assembly a true gift to the students and faculty. The Choir performance was great! It really hit home when they performed the song "Glory," which explained the struggles Black people face while growing up in the world. A sophomore by the name of Everett really stole the show with his Michael Jackson tribute. Overall, the Black History program was a true success and should be continued annually.
(Kendria Jenkins: Class of '15)
---
In this year's Black History assembly, I was the Master of Ceremony. This year's assembly was different from the rest. The last assembly was two years ago, and I'm glad to have it back. We had two assemblies; we separated it into two, one for lower and one for upper class. One of my favorite guest speakers was Mr. Harris who gave a powerful message about education and the decision we make as youth. I had the honor of meeting him first-hand and held a conversation with him. He is a very great man and a perfect example because he started with nothing and just yesterday met the president of the United States of America. The assembly was great and all thanks should go to Mr. Anderson; he did a wonderful job. There was singing, dancing, rapping, and poetry. Being the MC only made my experience more memorable. I was asked to MC the next assembly, and I will gladly participate again.
(Kevin Moore: Class of '16)
---
I attended both the 2nd Period and 3rd period assembly. Both of the assemblies were well put together and well organized; Also both assemblies were conducted by fellow junior Kevin Moore. In the 2nd Period assembly, we had a lovely speech from Emmett Till's cousin. He talked about what exactly Emmett did that day when he got in trouble. It was nice because it was someone talking from actual experience and not just what they know or heard. They also had the president of Hazel Crest speak which was motivational. One thing though that bothered me was the constant negative statistics about African Americans; I understand the reason for bringing them up but we are at the assembly for the positive things African Americans have done.
Third period assembly guest speaker was a former football player and a current senator his name was Napoleon. His speech was very encouraging; he basically told us that we have to work hard in school to be successful in life. After he was done, we had an amazing performance from junior Everett Little; he played Michael Jackson, and he did a phenomenal job. Then we had an amazing rendition of the Selma song "Glory;" the lead singer and the lead rappers did an amazing job with their parts. The art club also had this beautiful PowerPoint representing some of the struggles of African Americans and the great things African Americans achieved.
Then at the end of both assemblies several students ranging from freshman to senior did poems with the main theme being "I am someone you should know."
(Isaac Hollis: Class of '16)
---
In the Black History Program that took place today, the Hillcrest Choir began by singing the Black National Anthem. They did a great job as well. Then we listened to a man speak about his childhood and about how he became a professional football player. Then, he talked about how his grandfather was the principal of Dixon University. He says his grandfather had a big impact on his life. He also mentioned how he met Barack Obama. Then, the Flight club read different poems and explained the significance of different people. Next, Everett performed a dance to Michael Jackson's song, "Man in the Mirror." He did an awesome job. Then, the Hillcrest choir sang a song called "Glory" by Common and John Legend. They did an outstanding job and showed so much emotion.
(Jada Roberts: Class of '16)
---
I think the Black history program went awesome! Since I participated in it, I got to see some of the hard work everyone put in it. As a part of Flight Club, we each prepared poems about someone you should know in Black history. My poem was about Oprah Winfrey. Many said that my poem was great. They said I spoke strongly and clearly enough for everyone to hear. Flight Club as a whole was highly outstanding. Even through all the nerves, I believe everyone stepped up to the plate and did their very best. My favorite part of the assembly was the "Glory" performance. The lead singer, spoken word performers, and the choir did an exceptional job, and I loved how the choir sounded very similar to the actual song. The speakers were very inspirational, and I enjoyed their speeches. The tribute to Michael Jackson done by Everett Little was excellent. He performed the idol's most famous dance moves very well and as accurately as he could.
(Savannah C. Wooden: Class of '16)
---
Today in school, we were presented with a Black history program. Ms. Mootry sang the Black national anthem accompanied by the choir. There was a guest speaker named Napoleon Harris III, and he told us how we should be successful. He talked about in high school how he only had 4 shirts and 3 pants, but he made something of himself. Mr. Harris gave an inspirational speech telling us that we can do anything if we put our minds to it. The most entertaining was when Everett Little was dancing to "Man in the Mirror" by Michael Jackson. Although, the music stopped halfway through, he still continued with his dance when the music came back on. Then, the choir sang "Glory," and it was nice to hear the harmonious tune. I really enjoyed the Black history program, and hope we have another one.
(Moriam Yarrow: Class of '16)
---
On the date of Friday, February 20, 2015, Hillcrest held two African American assemblies during the second and third periods of the day. Initially, I felt as though it would be a drag to have to attend both considering that they were supposed to be the same, but I could not have been more wrong. I say this simply because for some reason or another the assemblies did not have all the same acts, but even watching certain acts being repeated did not phase me in a negative way.  The assemblies featured speakers, the school choir, a dancer, a band composed of faculty members, Flight Club, and a captivating film that included thought provoking poetry. I can say that when I look back on the four years that I spent here at Hillcrest, I would have to say that this is definitely one of the best, if not "the best," assembly I have ever had the pleasure to attend… I can say the assembly was important to me because I played a hand in putting it together and many of the performers were close friends to me. These reasons alone would have made it as easy as breathing to watch this assembly ten times over with ease.
My AP Art teacher and mentor Mrs. Jamilah Adebesin-Mason, unbeknownst to many, was tasked with preparing slideshows that matched specific content showcased at the time and producing a film that complemented the themes of African American culture. Being the busy woman she is with lesson planning, preparing her students for the upcoming AP test, and having a family to look after my fellow mentees and myself came to a general consensus. That consensus happened to be that Mrs. Adebesin would not mind some assistance. With haste the eight of us took up the mantle and divvied up the work in a most efficient manner. By doing this I believe that we were able to accomplish three things greater than just the work itself. We were able to grow closer together as friends through hard work (although three disciples of Mrs. Adebesin in particular worked with an even greater sense of vigor and travail), alleviate that stress and worry that began to plague our teacher, and lastly make an experience great without even having to leave our seats. It also made me feel good when as the names rolled past in the credits, I was able to tell those sitting next to me that those people are my friends and even point out my very own name, in a bragging fashion of course.
The amount of talent showcased at Hillcrest that Friday was, in short, truly staggering. Any human being could find pleasure in that assembly from the mellifluous sound of the instruments played by faculty and students alike to the positively poignant poetry read by students. I find it rare when a performance is able to make my hairs stand on end and send chills up my spine, but on that friday those very phenomena were the norm. The powerful voices of the choir performers were notably able to peak my interest, and I normally don't like live singing unless it is a legit concert. Just seeing the faces of these performers alone was able to restore my faith in my age group, which is impressive considering the fact that I'm generally pessimistic. In short, the feeling of achievement and purpose was palpable that day. However nothing made me happier than seeing my friend Everett dance to Michael Jackson's "Man In The Mirror." This made me happy because I could remember how during his first year in high school Everett was an all-in-all shy kid who I would never predict being capable of dancing in front of the entire school. Lo and behold, there he is effortlessly moonwalking across the gym floor with the entire crowd shrieking out of approval with a jubilant yet restrained smirk growing across his face. I was completely shocked with a feeling of contentment because I was able to witness someone mature in a truly spectacular fashion. A feeling that I would place akin to witnessing the birth of a new person.
…These performances were able to leave an impression on me just from the fact that I helped put it together and was able to watch my classmates and friends showcase their talent in an otherworldly and remarkable fashion. To put it bluntly, this assembly was radical! How fitting that in the dusk of my high school career, I am treated to such a spectacular show, it's almost like a cosmic joke.
(Ogechi Oparah: Class of '15)
---
Around the Web:
http://patch.com/illinois/homewood-flossmoor/hillcrest-hs-poetry-club-presents-black-history-assembly-0