Welcome to the Hilltop!
Have you ever wanted to breathe the same air as the President of the United States? Have you ever wanted to visit the city that runs the entire country? This is exactly what I was allowed to do this past weekend. After being admitted to the prestigious Georgetown University, I was given the opportunity to fly to their campus in Washington, D.C. to check out the school.
This opportunity was presented to me by a university organization called the Center for Multicultural Equity and Access (CMEA). CMEA's Hoya Saxa Weekend gives underrepresented minority students the chance to visit the campus for three days. During this time they visit classes, get their important questions answered, and experience life as a Hoya. They offer this opportunity to give the disadvantaged a chance to get a feel for the campus before decision day.
I was lucky enough to be chosen to attend Hoya Saxa Weekend, which means that I got to travel to D.C. with all expenses paid. After two plane rides and an hour shuttle from the airport, I had finally arrived at the hilltop. As I stepped off of the shuttle, I felt lost for words. As I glanced around at the other people that were on the shuttle, I realized that their reactions mirrored mine. We all gazed in awe at the iconic Healy Hall as we stood outside of the large iron gates that surround Georgetown. I could feel my heart racing from all my built up excitement. The feeling I had at this moment was like nothing I had ever felt before. It truly felt as if I had reached the moment I had been working toward my whole entire life.
As soon as we stepped past the gates, we were greeted by a lady who was a volunteer for CMEA. She handed us all free T-shirts and led us to McCarthy hall to register for the program. After registering, I decided to go on a tour of the campus. I was taken aback as we walked through the university. Though Georgetown had been one of my dream schools I was starting to doubt if I could actually see myself going here. The whole space felt claustrophobic. All the buildings were close together and the campus was by far the smallest I have been to.
When the tour ended my student host was waiting to take me back to my room. Though the outside of the building appeared to be pretty modern, the inside told a different story. The age of the building really showed on the graying walls of the gloomy corridors. My disappointment continued as I walked into the room that I'd be staying in for the next three days. The room was very cramped. Even though my host and his roommate decided to bunk their beds, there was still very little room on the other side of the dorm. When I reached the private bathroom inside of this dorm room, I was convinced that this University definitely wasn't for me. It was truly atrocious inside. The paint was peeling off of the walls, the borders around the walls were falling off, and the floor looked like the floor of someone's neglected unfinished basement.
Even though my visit started out badly, it quickly became enjoyable as the day progressed. Later that night. CMEA hosted a dinner to welcome all of the students in the program. I was able to meet many of my potential future classmates at this event. This was really the turning point of my visit because some of the things I looked for in a college started to emerge. At this dinner I was able to see the diversity of georgetown. I met with students of many different ethnicities who stem from all over the country. I could tell just from the various conversations that I had with them that night that I would be able to learn a lot from them about where they originate and the culture of their people. I always thought that it was important to get a good sense of the entire world because peace and harmony can not be achieved if everyone only sees the world from one point of view.
After this first dinner, I found yet another thing that I deeply desired in my future college. My whole life I've felt that my voice has never been heard. Whether I was at school or at home, I never felt like anyone ever cared about my problems, opinions, or concerns. During this first night at Georgetown, I had meetings at two cultural houses on campus: La Casa Latina and The Black House. Here we learned the history of the two houses and the point of them. I learned how both houses were created after students expressed their concerns and needs to the president of the university. The students felt that Georgetown wasn't very diverse at all and still primarily only accepted the white majority. These students protested to get a residence on campus that could serve as a safe space to minority students of all races. They also requested that the university seek more diversity in its admission process so that students can see their ethnicities reflected on campus. In both cases the university accepted the student's request within hours of the start of the protests. This really showed me how attending this university could allow my voice to finally be heard.
My next two days at Georgetown were less impactful but only added to the list of benefits of attending college here. My second day started with attending a financial aid session. Though I hadn't got my financial aid package yet, I learned from this session that Georgetown would cover 100% of my cost of my total cost of attendance. After this session I attended several other educational session. One that particularly piqued my interest was a session on the African American Studies major and minor. Though I had never thought of studying this talking about African American history, culture, societal problems, etc interested me. I also thought that it was really cool how you could take more creative classes, such as a class on Jay Z, that would still fill the requirement for this major or minor. Later on in the day I walked around campus and found some of the most beautiful places on campus. I was truly able to envision myself going here as I found the perfect place to read a book for my English class. I went to the roof of an apartment building on campus that overlooked the Potomac River, downtown Arlington, Virginia, and downtown Washington D.C. I was able to sit here and read in peace for about two hours before having to continue with the Hoya Saxa Weekend schedule. I ended the night at a cultural showcase. At this event I was able to see dancing, poetry, singing, a capella, and stepping performances. This performances were so diverse that some of the student groups represented countries I had never even heard of before.
My last day at Georgetown was the least eventful but probably the most fun. The day started with a trip to the Smithsonian museums. We were given the freedom to choose which museums we wanted, so I and a group of newfound friends decided to visit the American History museum. Here we visited many exhibits that showcased US industry throughout history. Once we returned to the university, everyone got dressed up and attended a formal closing banquet. During this dinner we reflected on the few days that we spent here and they reinstated why we should spend our next four years at Georgetown. To end my D.C. adventure I hung out with some of the friends I made during my time here. We ventured into downtown Washington D.C. to visit the monuments. We also had intriguing conversations about the differences in each of our lives where we live. We all stayed together until it was nearly time to get on my 3am shuttle to the airport.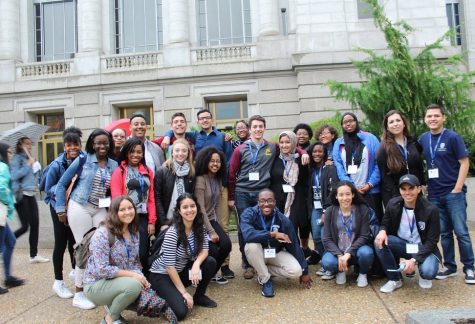 This trip to visit Georgetown was very insightful as it helped me make my college decision because seeing and experiencing life at a university is much different than imagining what it will be like. This experience is what made me ultimately decide that this is where I want to spend the next four years of my life. Though the campus may not have the nicest dorms or the largest campus, it does fulfill everything else that I wanted in my college experience. It has administrators that listens to its students, unique programs that are not offered at any of my other top choice schools, a diverse student body that interact with people of all colors, many student groups that allow students to express themselves and their culture, and a awesome location that is sure to offer many opportunities.
I believe that if I have these things not only will I be happy for this new chapter of my life, but I will also be able to succeed.