Hillcrest High School Celebrates National Library Week
This week, Hillcrest's IMC joins libraries nationwide in celebrating the many ways libraries lead their communities through the transformative services, programs and expertise they offer.
April 8-14 is National Library Week, an annual celebration of the life-changing work of libraries, librarians and library workers. Libraries aren't just places to borrow books or study—they're also creative and engaging community centers where people can collaborate using new technologies and develop their skills and passions.
Libraries of all types have long been evolving to meet the needs of the communities they serve. Diverse groups including elected officials, small business owners and students depend upon libraries and the resources they offer. Resources like e-books and technology classes, materials for English-language learners and programs for job seekers are just a few ways libraries and librarians are transforming to lead their communities. Community members can also develop their own leadership skills at the library, with endless opportunity to build skills and confidence through resources and programming.
To celebrate the 60th anniversary of National Library Week (April 9 – 13), the Hillcrest High School IMC/Library hosts daily activities for students and staff including a MakerSpace Survey, Drop Everything and Read Day (encouraging everyone to read for five minutes each period) and the '4 in 4' Book Club discussion party.  
First sponsored in 1958, National Library Week is a national observance sponsored by the American Library Association (ALA) and libraries across the country each April.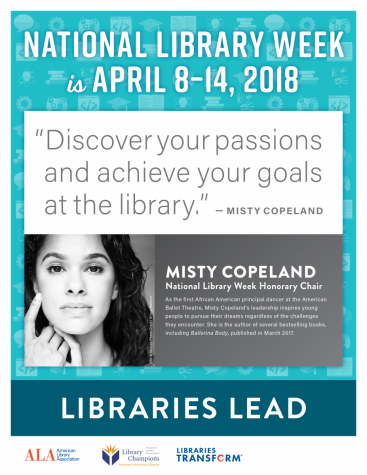 For more information about the Hillcrest IMC's activities past or future, please contact Media Specialists Kara Williams [email protected] or Lisa Walsh [email protected].