What's Up With These Prices?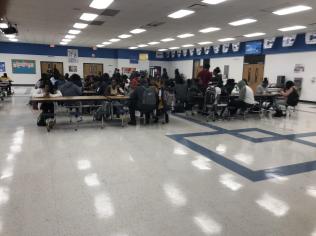 During the Fall of 2016, I was a freshman and one of the most important changes in my life was having to buy school lunch everyday. During this time, a parent could send their student with about five dollars a day, and the student would be able to buy a burger, fries, and a drink for less than what they had. Since school year 2016-17, Hillcrest High school food prices have gone up approximately 46%. I have been on a mission to figure out why the prices are the way they are and why we only have the specific food choices.
To begin my mission, I had a great conversation with the cafeteria manager Marcia Cross. I first asked her how were the cafeteria prices constructed. I learned that she has absolutely nothing to do in the process of making the prices of the menu, she is only in charge of the kitchen. I also found out the best way for me to get my questions answered was by talking with my school administrators and the food company that comes up with our menu and gives the school food, Sodexo. Before getting in contact with Sodexo and administrators, I wanted to compare prices of our cafeteria with other schools in our district, the teacher's lounge, and Homewood-Flossmoor High school.
In Hillcrest High School's teacher's lounge, I compared the prices of water, canned drinks, and chips. In their lounge, their water is $1.25, canned soda and chips are $1.00.
Moving on to talk with the other District 228 schools, I confirmed that we had the same prices and were serving the same type of food, and I was correct in thinking we use the same company and serve the same food. So I took another step and got in contact with Homewood-Flossmoor High School cafeteria director, we discussed some of their popular school food options and what type of drinks they serve and their ounces. At their school, they only sell 22 oz. water and Lipton iced teas with a variety of flavors, and they sell these for $1.50 and the only difference is that they use a different food company, Gordan food services. They started using this company this semester changing from Chartwells and seems to be a better fit.
Moving on to the most important part of my investigation was talking with the administrators of my school and calling Sodexo food company. I first talked to two of Hillcrest's administrators, Dr. Young and Dr. Buchanan. When I talk to them, they told me that they weren't aware of how the pricing process works or why we eat the food we eat. I started talking to more Hillcrest staff such as some student services staff and teachers. Some of them don't really pay attention to the prices, but they do pay attention to the type of food being offered to us. Some even feel as if they had the opportunity to change the menu that they would give us healthier choices and better variety of fresh food to give students more energy and so that we don't fall asleep in classes and that'll just do better for our bodies.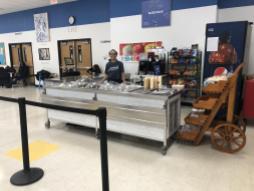 Finally, when I got in contact with Sodexo, it was very difficult trying to find anyone that could answer my questions. When I first called the food company, I talked to a representative in the sales department, she said that she would not be able to help me and that she could transfer me to someone who could. They lady I was transferred to was a Ms. Denise Lesowitz. I told her who I was and what I was doing and as soon as I finished my sentence she said, "I'm sorry, I cannot help you with that." She did say though that she can give my information to the person I had already had a conversation with, Marcia Cross.
So I called District 228 administrative office business manager, Brittany Morrison who was very helpful and got me in contact with Sodexo Executive Director, Steven Berger. The first email transaction that I was copied on made me feel as if he would be a big help in answering my questions. Sadly, I was wrong. I emailed him my questions over a week ago as he asked and he has not gotten back in contact with me since.
As of today, I haven't gotten the answers to all my questions, but as soon as I receive the answers, there will be a part two to this crazy story.