Why Fashion Merchandising?
As I move forward to the next chapter of my life, I've decided to pursue Fashion Merchandising as my major at the university of my choice. By all the confused looks I've gotten, I know many don't even know what merchandising is. So "why fashion merchandising?" you may ask.
Fashion is my pen. But I am limited. It is to me, the greatest form of art, as it is displayed everyday—whether in high school halls, the busy sidewalks of downtown Chicago, or a couture runway. It's a love that's never fulfilled. The perfect word to describe fashion for me, would have to be "stimulus." It brings out every emotion in me: the joy, gloom, strength, anger, and the very erratic drive that makes me jump out of bed at three in the morning to draw "the LOOK" that popped into my head.  We have everyday to create something new through clothing. The possibilities are indeed endless as I can never decide on red, green, gold or the others. Fashion is innovation, born and bred from curiosity. However, there are many factors of the industry that we do not see on a surface level. 
What is fashion merchandising? Fashion merchandising is defined as the promotion of apparel sales and follows the chain of apparel from the designer to the consumer. When you take a trip to the mall, see a display window and know what store it is by the clothing in the window before you can either look at the sign hanging above it— a merchandiser was most likely behind that. Responsible for achieving the atmosphere of a brand and being able to get customers to come shop!
Mariel Loveland, a writer from bizfluent.com , refers to merchandisers as the "unsung heroes of the fashion industry". Have you ever sat and thought about how much goes into fashion, from brands as a whole, to runway, to your local department store? There are many people behind the scene who don't get enough credit. For example, when we think of Versace the fashion house, most people think of Gianni Versace himself as it is his brand. A slightly more fashion-educated person may even think moreover to its current creative director (just one of many jobs in the industry), and sister of Gianni, Donatella Versace. However, what many people don't know is that there are whole ateliers behind these amazing fashion houses which is why they are called "houses" to begin with. Aside from the sewers and designers who bring our dreams to life, we have the marketers and real business people: the magazine editors, product developers, trend forecasters, account executives, coordinators and directors, fashion buyers, fashion merchandisers, and visual merchandisers, consultants, copywriters and I could go on. All can be achieved with a fashion merchandising degree which can either be a business, humanities, or art degree depending on your chosen university.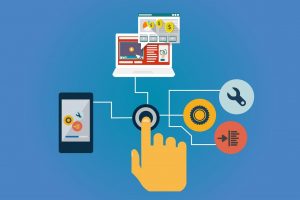 Accurately branding a business is an art. Securing the preferred target audience, keeping them engaged, and profusely giving off the desired nature or aesthetic of a business, all requires great marketing. With my love for rebranding and growing up running a Christian-based product business, I developed the desire to take my love for marketing to the next level. I plan to approach this quite devotedly with dreams of creating several lines each catered to contrasting types of customers. If you're interested in fashion, you may already possess the avidity and passion yet must now develop your technical knowledge for marketing, the real business portion. You may ask yourself "What secrets does this industry hold for me? What other roles are needed to keep big corporations globally circulating and how can I fulfill them?" Sharing a love for modeling, fashion, and photography, this major would give me skills I can incorporate into all, assessing a more professional feel for my work.
Personally, I lack being able to settle ideas for collections and brands around central main ideas and would love to master confining my target audience, context, and overall character of my brand(s). Understanding what particular brands are known for and what makes them, them, is also vital to learning processes and marketing as a whole. I understand small details are important and have a love for such so learning how to incorporate small but telling aspects is essential.  My major will give me tastes of several jobs, including fashion design and illustration for a balanced study of both the creative and business side of the industry. The study of fashion merchandising will give students key knowledge in becoming a buyer. As well as the behind-the-scenes aspects of owning a clothing line and any other corporation. Commercial is key.