The Hillcrest Interact Club Visits The Greater Chicago Food Depository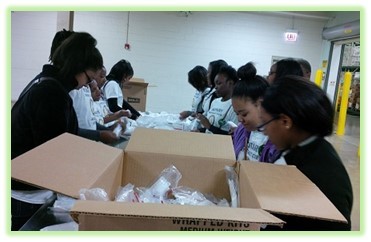 The Hillcrest Interact Club visited The Greater Chicago Food Depository to volunteer their time and learn about the daily process of serving the residents of Cook County.  The Interact Club is a national organization for youth ages 12-18 who want to connect with others in their community or school. The food depository is where food and items are repackaged and sent to food pantries and churches. The students learned that many residents of Cook County are not able to provide a meal for themselves each day.   The Interact members helped repackage food and items for residents living in Cook County. This food depository serves 650 agencies.  Also, the depository has a mobile fleet that serves about 142,00 residents. They send a truck to the homes of people that can't get out.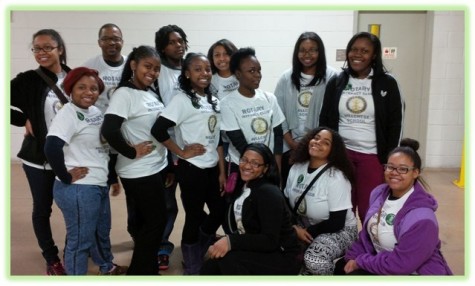 "To give a visual of the amount of people who go hungry each day, you could fill the United Center six times, and there still would be more people waiting to be fed," said Moriam Yarrow, Hillcrest student.
Some of the food items go to after-school programs at many different schools around the Chicagoland area.
"We have learned that one in five children are food insecure and don't know where their next meal will come from," said Moriam.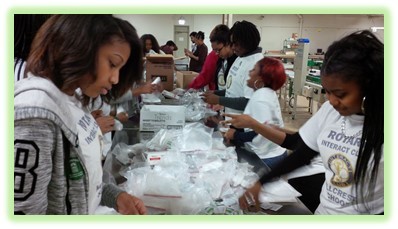 "We had a great experience knowing that we were helping to provide families with meals so that they wouldn't be hungry. Our job was to create cutlery sets for student meals.  Our goal was to reach about 2,000 sets  and we actually exceeded and produced about 3,200, " said Jada Roberts.
The Interact Club members  plan to volunteer again.  "We love helping and making a difference in someone's life. We didn't realize how many people actually go hungry in our country," said Jada.
To find out more about Hillcrest Interact club contact Barbara Wade at [email protected].