Hillcrest's Red Queen Book Club Sponsors Themed Events
Hillcrest students and staff have an opportunity to read Red Queen by Victoria Aveyard as part of the IMC Department '4 in 4' Book Club.  The District Foundation Board awarded the IMC Department the funds to purchase multiple copies of four different book titles.  Each book title will be rotated between schools for the next four years.   

The Hillcrest Red Queen '4 in 4' book club kickoff activity was a "Silver Survival Challenge" on Friday, February 17th.  Approximately 23 students participated in the following book-related challenges:  Cup Game, Candy Race, Mine Field , Group Arena Battles (e.g. Jousting, Balloon Battles and Pool Noodle Ninja), Bridge Building, and Blindfold Drawing.  

In addition,12 students participated in last week's Red Queen 'Hawkstrial'.  Each participant was assigned a 'Hawkstrial target' (another student participant) to eliminate from the game.  Eliminated players had to give their assigned 'target' to the person that eliminated them.  The game continued until only one player was left. The 'Hawkstrial' winner was Fidel Fields.

This week Red Queen book club members are asked to submit a Red Queen character likeness (e.g. illustration etc.).  These likenesses will be posted in the IMC.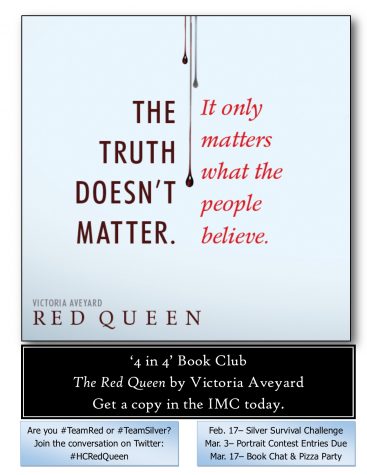 The RedQueen Book Club finale will be held on Friday, March 17th.  The closing activity will be a book discussion pizza party after school in the IMC.  All students and staff that are officially part of the Hillcrest Red Queen '4 in 4' book club will be invited to participate in this book discussion pizza party.  

It's not too late for students and staff to join the Red Queen '4 in 4' book club.  Stop by the Hillcrest IMC and sign up!
For more information about the Hillcrest IMC's activities past or future, please contact Media Specialists Kara Williams [email protected] or Lisa Walsh [email protected].