Playing the Player: A Book Review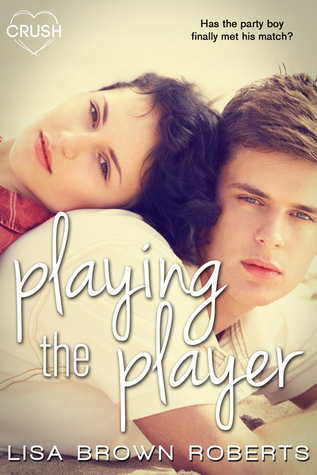 From the summary on the back of the 2015 edition published by Entangled Teen: "Trina Clemons needed the money. Why else would she – the most organized, prepared student in school – spend the summer as a nanny and partner with the biggest slacker ever?…Then the weirdest thing happens. There's chemistry. A lot of it. But nothing gets between a boy and a girl like a big, fat secret…"
Playing the Player by Lisa Brown Roberts is predictable. After the first chapter, the reader knows what will happen at the end. It's the typical boy-has-bad-relationship-and-becomes-a-jerk-and-girl-is-resilient-to-bad-boy's-charm plot line. They are put together and fall in love. This is the entire book in a few sentences.
It starts off with Trina talking to Slade's mom about him. She wants Slade to learn responsibility, and become more reliable by babysitting over the summer with Trina. Trina agrees to this only if she can stay in charge, and send reports to Slade's mom about his progress.
Trina and Slade were good cop, bad cop, throughout the story as babysitters. Trina wanted to take educational trips, while Slade left them to just watch television all day. Also at the beginning, Slade makes a bet with his best friend that he wouldn't be able to get Trina to lighten up. Slade's goal throughout the book is to let Trina open up and have fun.
Towards the middle, they start to warm up to each other. They go on a date, and start going out. Trina opens up to Slade about her past, and how her brother died in a drowning accident.  She also tells him how she needs to save money for college. Slade tells her how he's scared to go to college and how he doesn't want to disappoint his parents. Trina finds out about Slade's bet, and Slade finds out about Trina being paid to be babysit with him.  They blow the whole thing out of proportion and stop talking to each other. Slade is more hurt than Trina because it reminded him about his ex. Trina writes Slade a letter and tells him how she loves him and how she is sorry.  She sends the money back that she was receiving. They end up together, and Trina ends the story about how she could play the player.
The book alternates P.O.V. from Trina to Slade.  I enjoyed reading Slade's P.O.V. more; he was a lot more interesting than she. He was easier to read. Trina's P.O.V. was fine, but the majority of the book was in her P.O.V. The author shouldn't have added Slade's P.O.V. if she was only going to write a few chapters with him.
The characters were all enjoyable; they weren't annoying.  The book itself is easy to read; it's fast and can be read in a few hours. I liked how the author included the different personalities of the children that were being babysat. They were interesting to read about. I wonder if the author will make a book about them when they're older?
I would rate this book three stars. I feel like the author could have shortened the book by seventy-five pages. Some of the chapters were not needed. I would have enjoyed the book a lot more if I didn't predict the ending of the book. It was a good ending, but it was a Wattpad ending. The ending has been used millions of times. If the author changed the ending just a little, it would be better. She should have been more original.
I wouldn't recommend this book to everyone. I would only recommend it to a few people who are looking for something to read and who don't read a lot. If the author has another book, I would give it a try as the writing was easy to follow.