Beyoncé's Big Return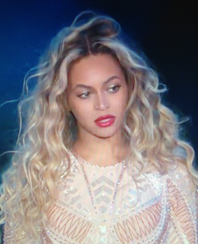 On July 21st, 2015, the Made in America 2015 festival lineup was announced. Shocking the internet, Made in America scheduled none other than Beyoncé herself to headline the festival on the day of September 5th: one day after her 34th Birthday.
Beyoncé creatively and hypnotically started her performance with nine wooden boxes on the stage vertically. In each box, there is one of her dancers moving their heads left to right to the instrumental of "Crazy in Love (Remix)," except in the middle box where there are two dancers in the box. Suddenly, flashes of light appears, and then Beyoncé appears in one of the boxes to the far left. Then, again another series of lights appear, and then Beyoncé appears in one of the boxes to the far right. Then to finish it off, another series of light appears, and Beyoncé appears in the middle, while her dancers appear in the remaining eight boxes. Then, while still to the instrumental of "Crazy in Love (Remix)," she and her dancers did little movements, with some lighting effects.
Beyoncé started to perform some of "Crazy in Love (Remix)," and as the song ended, she shouted the numbers, "1, 2, 3, 4," and I went crazy because I, as a Beyoncé fan, knew what that meant: she went into the regular version of her chart-topping hit "Crazy in Love" starting with the second verse. During the performance she stopped for a dance break, and during the dance break she incorporated the song "Circle" by Lil Ronny. Also in her dance break, she decided to take it back to her Destiny's Child days, performing their chart-topping hit "Bootylicious," which happens to be my favorite Destiny's Child song.
After her high-energy performance of "Crazy in Love," she went into her emotional ballad "I Care," which showcased her amazing vocals. After the emotional performance, a visual played with the instrumental to her most recent hit song "7/11." In the visual she was doing little cute things and had me and the crowd anticipating the long overdue performance of "7/11." With the instrumental still playing, she and her dancers rose from the stage getting ready to go into the highly anticipated performance of "7/11." At this point, Beyoncé did a little outfit change. For her earlier performances, she had on a shimmering leotard that matched the complexion of her skin, with red leather, knee-high boots, but as she rose from the stage, she still had on the same shimmering leotard but black, ankle-high boots. I personally preferred the red knee-high boots, but all that matter was the performance of "7/11."
Throughout the performance of "7/11" she had choreography and high-energy. At the end of the performance she had her dancers line up behind her to make it appear as if she had multiple arms. The whole "7/11" performance had me out my chair dancing along with her. The audience members and I had been awaiting this performance since the release of the song in late November 2014, and she didn't disappoint! After she slayed the "7/11" performance, she went into the performance of another hit song of hers, "Diva." During "Diva," she went into a dance-break and incorporated the songs "Commas" and "Where Ya At" both by Future, which again got the crowd hyped as she danced like her life depended on it.
She went back to the Destiny's Child days once more performing their hit song "Survivor." As "Survivor" ended, she went into her high-energy song "Ring the Alarm". I always anticipate "Ring the Alarm's" performance because the choreography she does is perfection. During her "Ring the Alarm" dance-break, she incorporated her hit single "Naughty Girl" and Destiny's Child's hit single "Independent Women". I started to go a little crazy because "Naughty Girl" is my favorite song off her first studio album (Dangerously in Love). As the beat switches, I started to hear the instrumental to her female-anthem "Run the World." This is also a performance I always anticipate because of the choreography, and how sassy she gets while performing it. After her fierce performance of "Run the World," she walked off stage to prepare for an outfit change to perform her next female-anthem "Flawless." As she walked on stage she came out in this shimmering red jersey leotard with the front of it saying "Houston 13", and her dancers were all wearing jersey leotards with the city they're from on it. During the middle of her performance "Flawless," she incorporated the song "Nasty Freestyle" by T-Wayne, which paid homage to the worldwide Twitter trend "#BeyoncéAlwaysOnBeat,"(Which was actually created by a Hillcrest student Kendall Gaines). After the flawless performance of "Flawless," she took it back once more, and performed Destiny's Child's hit song "Say My Name." After the throwback, she went straight into a recent song of hers entitled "Yoncé", just to take us back again with Destiny's Child's "Jumpin Jumpin," which literally had me jumping up and down, dancing and singing along with her.
As Beyoncé re-enters the stage sitting in a chair with a revealing black leotard, the instrumental of her iconic single "Drunk in Love," was playing. I started to mimic the sound of the beat, as I waited for her to sing it. During the second verse of her iconic hit "Drunk in Love," she mixed the instrumental of "Trap Queen" by Fetty Wap, with Drunk in Love, and it honestly was pure perfection. After she slayed "Drunk in Love," she decided to perform "Feelin' Myself," which was highly anticipated from the fans and myself. During the performance of "Feelin' Myself" she decided to play with the audience. During the end of her verse in "Feelin' Myself," where she usually stops and says "carry on," she would get close to that part she would start and do the whole verse over again. The audience and I anticipated just to hear her say those two words: carry on. During one of the times she started over she changed into a shimmery orange Sixers jersey. Eventually, after starting over three times she said the words we were all waiting for: carry on, and then the beat to her racy song "Partition" played, and I literally started screaming. Every time I hear the beat to "Partition," I just get so excited, because the song is one of my favorites from her and also the beat is just so infectious. After her lovely "Partition" performance she left the stage for another one of her outfit changes. She graceful walked upon the stage with a lingerie-type leotard with red lace designs on it, with a flowing red cover up, and performed her mysterious song "Haunted." This was her best "Haunted" performance to-date, she incorporated the boxes she used in her intro "Crazy in Love" performance, and it was flawlessly done, and very unique. After her flawless performance of "Haunted," she took off her red cover-up to do her song "Blow."
For Beyoncé's next performance she walked onto the stage with a shimmering silver leotard with the acoustic instrumental of "XO" playing. I felt mixed emotions between excited and sad. Excited because "XO" is my favorite song in the world, and sad because she usually performs it close to the end, and I wasn't ready for her to finish. In her performance of "XO" she showcased many of her vocal ability, sounding so angelic. After she finished her breathtaking performance of "XO" she went into her power ballad that everyone knows "Halo", and right then and there I knew this was the end. After her displaying her lovely vocals in this performance, I prepared for her to exit the stage, but to my surprise she wasn't done. The beat to her love song "1+1" started to play, and I got happy for two reasons: she was still on the stage, and I love how much of her soul she puts into 1+1's performance. After that beautiful performance she decided to interact with the crowd before she performed her hit "Love on Top." I always love seeing her interact with the crowd, it always shows how down-to-earth she is. During the "Love on Top" performance she showed a mixture of high-energy, and amazing vocals, and she made me get up and dance. The whole performance just put me in a positive place.
Finally, after her last outfit change, Beyoncé ascended on stage to perform her up-tempo single "End of Time," and I got pretty excited because the beat to "End of Time" is infectious as well. Catching my breath to watch her next performance as she introduced it by saying "Alright, y'all, this is the finale." I wasn't too happy to hear it was the finale, but I was ready for the performance of her biggest hit "Single Ladies." After her full-energy performance of "Single Ladies," she ended by giving thanks to her crew, and the audience, wished everyone a blessed night, blew a kiss and gracefully walked off the stage. Overall, I would have to give the performance 5 out of 5 stars, the performance was flawless. During the performance she made me feel every emotion between happy and sad. She also brought so much energy to the stage, had me doing the choreography harder than her and singing louder than her. The wait for her to return to the stage was all worth it, I wasn't disappointed with any of the performances; she slayed each and everyone one of them.
If you would like the view the performance, you can view it on Tidal if you have a subscription.