Hillcrest Mock Trial Qualifies for State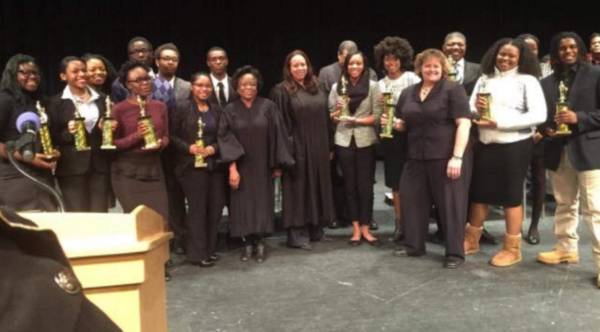 On February 20, 2016, Hillcrest High school took home 1st place in the Cook County 6th municipal district mock trial competition held at south suburban college. Mock trial is act or imitation trial and a simulated trial-level proceeding conducted by students to understand trial rules and processes usually tried before a mock jury. The 2016 Hillcrest Mock trial team is made up of 14 students: Tondalaha Davis, Darlena York, Darnell Gilton, Eniola Awoniyi, Lardell Clark, Savannah Wooden, Alexus Woods, Moriam Yarrow, Taylor Winbush, Pierre Tutson, Mashell Rush, Torrence Martin, Raqeeb Yarrow and Erika Ezife.
The case was Davies v Dunn concerning two hockey players that got into a fight on the ice in which one (Dunn) suffered a traumatic brain injury. Pat Dunn is suing Chris Davies for one hundred thousand dollars in damages while Chris wants the court to see the wrong in Dunn's actions and find him not liable on all charges due to Dunn's neglects on the ice. Pat Dunn is a family man that has two children and is a sport news caster, who plays semi-professional hockey with a team from his job. While Chris Davies is single and plays semi-professional hockey as a full time job. The game in question is the game that advances the winner to the national championship, where the winning team wins $50,000.
The first round of this case Hillcrest High School was placed against TF South High School. After a battle between the two schools Hillcrest came out with the win and moved on to the second round against Rich South High where they prevailed again. They were then advanced to the final round against Mother McAuley High School, where they hit a few bumps by not being able to use their enlarged evidence. After all the openings, testimony, evidence, and closing were shown the results came back and Hillcrest took home 1st place. The next step for the team is competing in state to be held April 2 & 3 at the University of Illinois Law school in Urbana, IL.
Wishing the future lawyers good luck, Go Hawks!
Around the Web:
Hillcrest HS Mock Trial Team Visits Court House
Hillcrest HS Mock Trial Team Advances to State Competition