South Suburban Conference Music Festival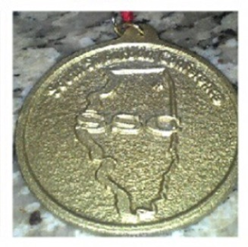 On March 3rd, 2016, the top band students from Hillcrest, Oak Forest, Bremen, Tinley Park, Reavis, Lemont, Thornton Fractional North, Thornton Fractional South, Alan B. Shepard, Harold L. Richards, Oak Lawn, Evergreen Park, Dwight D. Eisenhower and Argo High Schools all gathered at Lemont High School to participate in a music festival. These students were chosen from many other great players at their school' however, only the best were picked. Each band director from each school submitted a list of students and their achievements, and from that list the players that were felt to be the best were chosen to participate in the music festival. The students that were chosen from Hillcrest High School were: Ava Grandberry, Karly Kos, and Angela Guyton (flute), Alexis Simmons (percussion), Myrik Hill (saxophone), and Kevin Moore (euphonium).
A week or two before the festival, the band directors are given a list of the music that will be played at the festival, and they are to pass it out to the selected students. The songs that we played this year were: "At Dawn They Slept," "Seal Lullaby," "Brabant," "Choral and Shaker Dance," and "Saucedo."
On the day of the festival, all of the students come together for the first time and rehearse the music together. This is a long day from about 8:00 in the morning to about 8:00 at night when the concert ends. When we first arrived at Lemont High School, we were each given name tags that we wrote our name and school on. The purposes of the name tags were that so we could know who each other's name, and also so that we could be recognized that we were there for the festival because Lemont still had classes going on. Then, we put all of our belongings into the designated place, which was a chosen practice room, got our instruments out, and began to warm up.
The instructor, Richard Fisher, had the horns warm up with a B-flat scale, first starting with the tuba and gradually bringing the other instruments in. The percussion didn't do anything for the warm up, as we never usually do. After the warm up, we began to rehearse the first song, "Saucedo." The song was very exciting. After we went through "Saucedo," we went through the song "At Dawn They Slept." This song had many different parts, and tempo changes in it, making it both a challenging and fun piece to play. The next song we played through was "Seal Lullaby," this was a very peaceful and smoothing song, just like a lullaby. The next two songs that we played through were "Choral and Shaker Dance," and "Brabant." These two songs were very nice and fun to play and hear.
"
This was my first year participating in this festival, and it was really fun; it's definitely something that I'd like to experience again."
— Angela Guyton
We played all day long until about 1:20 p.m, when we broke off for lunch. It was great to get a chance to stretch and leave the band room. The room was very big, but being trapped in one room for a while can be exhausting. Before we actually left for lunch, the percussionist had to move the percussion instruments down to the performance area. Lunch lasted for about an hour until we had to return back to the band room for another three hours. After we returned from lunch, we rehearsed all of the songs again, but this time it was like a dress rehearsal. This would be the last time that we had a chance to play together before the big concert. So, we worked our hardest, adjusted to the acoustics of the auditorium and played through the songs perfectly. Nerves were starting to kick in at this point, as this was it. After we played through the songs in the auditorium for about three hours, we broke off again for dinner at about 5:00 p.m. After dinner we had to get changed into our performance clothes and go to the stage ready to play.
The concert started at 6:30 p.m. in Lemont High School's auditorium. The concert went great, first the Jazz band, directed Andrew Hoefle, played their selected songs, and they did great. Once the concert band went on, which was the ensemble that I played on, there was another a great performance.
Once the concert was over, we all received medals, so that was cool too. It was also said by one of the band directors that this was the best sounding group that the musical festival had in years. That comment made me feel great seeing that I was a part of it. Being a part of this festival is a great honor and a really good experience that any serious band member should experience at least once in their high school career.