Hillcrest's Marquice Cole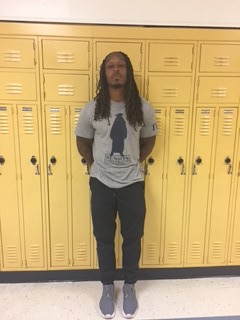 Q: Why do you coach here at Hillcrest?
A: Just to give back to the place that I was at. I know how a little guidance can help and go a long way with the youth, so I decided my Alma Mater would be the best place for me to coach.
Q: Can you explain a typical football practice?
A: Warm-up for 10-15 mins. If anyone was tardy or absent the day before, we all run for it; we take laps for each and every individual that's tardy or absent. Then after that, we go into special teams for 2 periods – each position goes with their coach to work on individual skills. We also come together for 7 v. 7 with full team passing and running. Last, we go into conditioning as a full team.
Q: How do you handle criticism?
A: I don't let it bother me at all; it's just in one ear out the other. I have never been one to listen to what people had to say. Also, it really doesn't affect me if it's on the field; I'll use it as fuel to do something productive.
Q: How do you connect with your players?
A: A lot of different ways: I let the kids know that I'm there for them for any reason they need me. So, I get calls at 3 in the morning from different people asking for help with one thing or another. I can also relate to them because I walk the halls with them, listen to the same style of music, and same type of dressing. It's really east to connect with them.
Q: What was your Hillcrest experience like as a student?
A: It was great! I played sports, did lots of activities, and always got good grades. I was a model Student-Athlete, and the teachers loved me. It was just a fun experience.
Q: How does it feel to be a former NFL player?
A: It feels pretty good! I set out some goals for myself at a young age and to be able to achieve those goals was awesome. It's just a great story for my son and the kids that I am coaching.
Q: What college did you attend? What was it like?
A: I went to Northwestern University. It was challenging, one of the most prestigious universities in the world for that matter, a very hard academic school. I've never been one to take the easy route to do things and going there gave me the challenge I like. I was a pretty good experience!