Hillcrest's BPA Director of Public Relations Tia Pollard selected as Athlete of the Week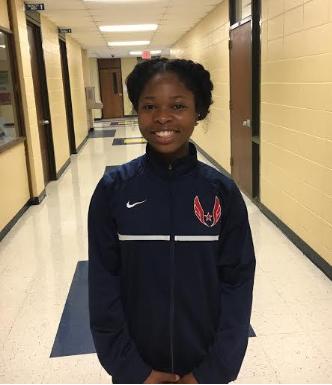 Hillcrest's BPA Director of PR and Cross Country Captain Tia Pollard was selected as a Hillcrest Athlete of the Week for September 5th to September 10th. Pollard was nominated by her Cross Country Coach, Mr. David Braden. Pollard is an impressive Student-Athlete.

Education-wise, Pollard is ranked 15th out of 267 students in her 2018 Junior class. Pushing with a 4.95 GPA, Pollard has set to conquer AP course classes. "My education is just as important as my athletics; if I try my best in school, it will soon pay off with my athletics," says Pollard. Studying and doing homework isn't a problem for Pollard; she makes sure she gets her work done in class when it is needed to be done. "Always make sure you get your everything done schoolwise, any type of sports can easily interfere," suggests Pollard.

Athletic-wise, Pollard started her season off strong. Leading as one of two captains, she is not one to disappoint. Moving from 29 minutes to 25 minutes in only the first few races shows great progress. Since Pollard is competitive, she realized that with heart, she can go further than most girls. Knowing the importance of heart will be a huge boost for her career goals. Though many girls meyl feel the need to give up when the going gets tough, Pollard is committed to pushing through. She will continue to give it her all, as she won't let her heart give up so easily. Pollard is a team player as well. Supporting her team is one of her main priorities, as her team is her main empowerment. "Without my team, I wouldn't be where I am today," Pollard says. "My team motivates me to be the best I can be out there on the course."

One of Pollard's favorite quotes comes from Vince Lombardi, "The price of success is hard work, dedication to the job at hand, and determination that whether we win or lose, we have applied the best of ourselves to the task at hand."
Congratulations to Tia Pollard, The Director of PR and Captain of the Girls Cross Country Team for becoming Athlete of the Week.