Hillcrest BPA works Off-campus at the Business Center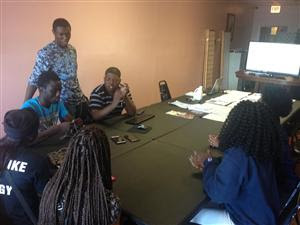 Developing a partnership with the Country Club Hills Chamber of Commerce has done wonders for the Hillcrest Business Professionals of America (BPA). Chamber of Commerce President Mr. Ben Johnson offered BPA a unique situation to help Hillcrest reach more business contacts. Mr. Johnson has allowed Hillcrest's BPA students to utilize the Business Center as an off-campus work-place for the students. Using Business Apps, Computers, and a Conference Room, Hillcrest is truly reaching higher limits and performing as a business. BPA has now developed a marketing team that uses the office on a daily basis. The Marketing Team develops business contacts to raise revenue, contacting charities, helping the Chamber with daily jobs and so forth.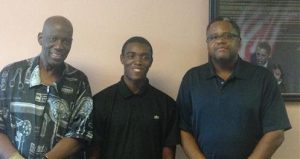 With many projects already done and projects in the works, Hillcrest is well on its way to being very successful!! With President Pierre Tutson overlooking all activities in the class with Vice President Raqeeb Yarrow, Hillcrest is moving very quickly. Director of Marketing Faith Durden and her team are constantly reaching out and making new contacts; there is not a class that goes by where Faith is not on the phone with executives of companies.
Key marketing members include: Kyria Cook, Natalie Williams, Karisma Jones, Caleb Henderson and Ruth Roberts. The Graphic Design team led by Kyla Dockery, Melania Lewis and Kalmarhi Oden are designing shirts for special events. Director of Public Relations Tia Pollard has contacted all the Mayors and the Chambers of Commerce within the District in addition to developing all types of social media, TV and Radio. Breanna Bullock, Deloris Ivery, David Moore and Darlene Moore-Jones play crucial parts with the Public Relations team.
Most importantly, Director of Charities Lardell Clark is constantly looking for unique charity events that Hillcrest BPA can be involved in. Fortunately for Hillcrest BPA, Chaleisa Butler gets pictures and videos of all events and students—she is involved in TV Productions–therefore, with her expertise Hillcrest BPA can easily send quality material to the media and newspapers.
A special thanks goes out to Breanna Bullock and her mother for BPA 9/11 event. Without the support of the Business Center and President Mr. Ben Johnson this would have been very difficult to do.
Hillcrest BPA would like to thank the Country Club Hills Chamber of Commerce and most importantly President Mr. Ben Johnson!!