Hillcrest DECA students participate in Fall Leadership Conference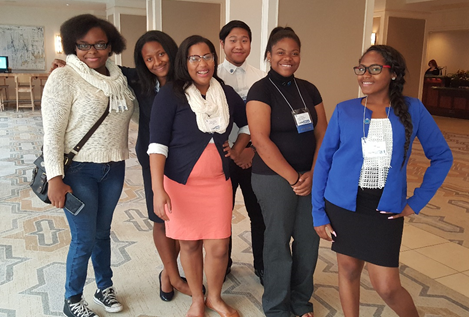 On Thursday, September 29th, Hillcrest DECA students Taliah Woodson (DECA President), Ron Luu (DECA Vice President), Francis Brown (DECA Treasurer), Tyler Allen, Destiny Jackson, and Kandi Pickett were accompanied by DECA Coordinator Dana Benda and attended the annual DECA Fall Leadership Conference in Oak Brook, IL.
According to DECA, "With nearly a 70-year history, DECA has impacted the lives of more than ten million students, educators, school administrators and business professionals since it was founded in 1946. Their strong connection with our organization has resonated into a brand that people identify as a remarkable experience in the preparation of emerging leaders and entrepreneurs."
During the trip students attended numerous  hands-on sessions, such as "Get Hired", "Competitive Excellence" and "Strong Soft Skills" that will guide them to success for competition. These sessions focused on performance indicators, written test, professional skills, and making good first impressions during mock interviews and real world jobs.
Students also learned about the art of firm handshakes and (A)lways (B)e (C)losing: a process when meeting with an investor at the end to always seal the deal and get their money.
Towards the ending of the trip two class officers got the chance to view the state candidate's election speeches, and vote for the DECA President and Vice President for the Illinois chapter.
These Hillcrest students will continue to benefit from these business connections and skills in the years to come as they have taken advantage of some of the career-readying programs available at Hillcrest High School.
We are proud of them and look forward to their future successes!