Wade Moves to Chicago
Swoosh!! The sound of Dwayne Wade's magnificent shot – a shot that was once in Miami and now is in Chicago.
In early July, Wade announced that he would be making the transition from the Miami Heat to the Chicago Bulls. Wade's move to Chicago has been very promising for Chicagoians, due to his performance on and off the court. His initiatives are not only on the court but also on the streets of Chicago.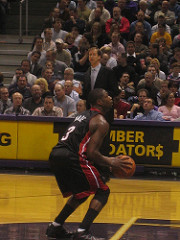 After 13 years of playing basketball for the Miami Heat, Dwayne wrote a letter addressed to all Miami Heat fans notifying them of his decision to sign with the Chicago Bulls. In the letter, Wade addresses the move to Chicago as essential and reminds the Heat Nation of how he helped create the franchise with his three championship rings and twelve all-star game appearances. Despite, how good Miami was to him, Wade also states one day he knew he would play for the Chicago Bulls, because Chicago is where he fell in love with the game that would later become his career. Wade stated, "Watching the Bulls growing up inspired me at an early age to pursue my dream of becoming a basketball player. My most treasured memories were watching my dad play basketball on the courts of Fermi Elementary School and developing my game at the Blue Island Recreation Center." Chicago is where he started his game and where he feels it is necessary to end his career.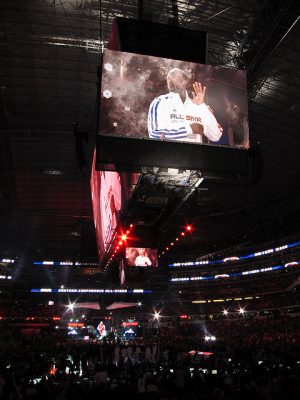 Wade's transition has been smooth. He has started his Chicago career with a bang. He averages nineteen points, four assists, and four rebounds. Not only has his performance been exquisite, so has his chemistry with his teammates. Wade built a very close bond with teammate, Jimmy Butler. Wade states he's the chef and Butler is the cook. Wade's helping Jimmy become the chef and states, "He's on a fast track to doing that." The Bulls 2016-2017 have started rocky; they are currently 19-20, but they are making strides to improve.
Striving to improve the team records isn't the only stride Dwayne's made. He also strives to improve the streets of Chicago with his initiative, Spotlight On. The goal of Spotlight On is to promote the youth to achieve by shining a light on successful youth in Chicago, empowering them to achieve their dreams in hopes to provide them a better future. This program has been successful and honored many Chicago students.
Dwayne Wade has definitely made a strong impact on Chicago in just the short amount of time he's been here. With his drive to succeed and his talent the Chicago Bulls and their fans are certain Dwayne bring Chicago to new heights on and off the court.