Must See Movies of 2016
This is a collection of must see movies from last year 2016.  These are not the only movies you should see, but these are definitely ones you would hate to miss out on.  This list of five includes:  The Jungle Book; X-Men: Apocalypse; Suicide Squad; Fantastic Beasts and Where to Find Them; and Captain America: Civil War.  This list isn't from greatest to least, least to greatest, level of importance, or order by date.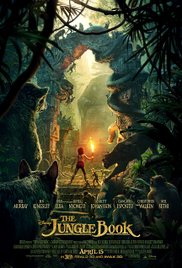 The Jungle Book came out April 4, 2016.  There hasn't been an acted out version of this movie since May 16, 1997 and before that April 3, 1942.  In the heart of India, there's a land called Madhya Pradesh, where they call the tiger 'sher' and the bear 'bhalu'. This was the place where Rudyard Kipling set the marvelous series of stories that he called The Jungle Book and that went on to become an animated classic and Walt Disney's last film.  The movie, which relies heavily on special effects and CGI animation — because how else would they get the animals to talk? — was filmed primarily on a massive sound stage at Los Angeles Center Studios in Los Angeles, California. Mowgli, who is played by newcomer, Neel Sethi, is the only human in entire film.  If you've never seen it, it is basically Tarzan, just based in India instead of Africa.  Now if you've never seen Tarzan, The Jungle Book is about an orphan boy whose father was killed by a tiger in a cave of India, who was found by a panther, who allowed the boy to be raised by a pack of wolves.  Sadly that same tiger had a bone to pick with all humans, so he didn't want Mowgli in his jungle, so he threatens the wolves to give him up, which reveals all of the colorful characters in this movie in an attempt to find this boy a place where he belongs.  This movie shows the beauty of a young man finding his self and where he belongs and the importance of family no matter the situation.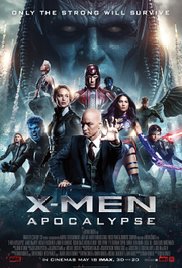 X-Men Apocalypse came out May 27, 2016 in the United States of America.  This was the newest version so far of the X-Men movie franchise: the ninth X-Men movie. After the re-emergence of the world's first mutant, world-destroyer Apocalypse, the X-Men must unite to defeat his extinction-level plan.  Apocalypse is not only the oldest but the most powerful. He was considered a god among the humans back in the times of ancient Egypt.  He had a group of four who would possess extreme power, called the Four Horsemen.  In one of his ritual rebirths, as they were called when he put his existence into another, his slaves threw a coup d'état. All of his Horsemen defended him, even to their deaths.  The people of the land assumed that he was dead because he was buried under tons of dirt and deep underground.  He later appears after being accidentally dug out, many centuries later.  Now in a world that has somewhat accepted that there are mutants, or people with special abilities, and are finding out how to deal with this, the first mutant goes on an all-out human killing spree.  Whoever doesn't join him, he tries to kill.  He plans on taking over the whole world, and only a handful of our mutant heroes, The X-Men, can stop him.  You don't have to be a fan to watch this, but after you do, you will be.
Suicide Squad came out August 1, 2016.  Director David Ayer signed on to write and direct in September 2014, and by October, the casting process had begun. Principal photography began on April 13, 2015, in Toronto, Ontario, with additional filming in Chicago, Illinois, and ended in August that year.  This is a movie about who you send in when you need some people to do some dirty work, and not let the press get their hands on who was behind it all.  Well, you have to send the bad guys, because they are, after all, expendable.  So the fictional characters are Margot Robbie as Harley Quinn, Jared Leto as Joker, Ben Affleck as Batman, Cara Delevingne as Enchantress, Will Smith as Deadshot, Karen Fukuhara as Katana, Adelwale Akinnuoye-Agbaje as Killer Croc, Jai Courtney as Captain Boomerang, and Viola Davis as Amanda Waller.  This movie in particular has many components that a good movie should have.  It has backstory, romance, thrills, action, a big piece of reality, sadness, and probably your personal favorite, Will Smith.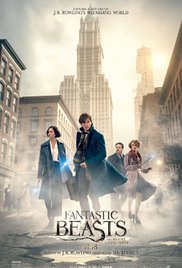 Fantastic Beasts and Where to Find Them came out November 10, 2016. It's a prequel in the sense that it's set in the same magical universe as the Harry Potter series, except it takes place during an earlier time period (the 1920's) and in a different place (New York City).  This is a story of a wizard from Europe, who comes to America to take care of his magical creatures.  Some of them get loose, and some of them are being hunted.  It also reveals how characters from the Harry Potter series came to be.  This is a great movie to watch if you've never seen any of the Harry Potter movies, but an even better movie to watch if you have.  It leaves you wondering about the creatures and the people after and before they go through this troublesome predicament.  And there are literally too many twist to count, and it is impossible to suspect the ending.  This film will constantly leave you on the edge of your seat, even if you are at first reluctant.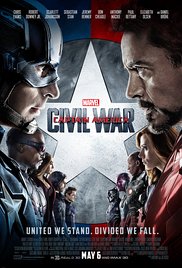 The movie Captain America: Civil War came out May 6, 2016.  This movie is could be mistaken for an Avengers movie, due to the amount of characters in this film.  Basically someone is trying to make the Avengers split up, and the plan focuses on Captain America's Friend Bucky. Bucky was previously mind-controlled and framed for the murder of Tony Stark's (Iron Man) parents, who he had a slow falling out with and the killing of a Wakandan King, whose son will stop at nothing to kill who has killed his father.  So whose fault is it really? Is it Bucky's fault, Hydra who was mind controlling him, or Tony's for not being there for his parents?  The Wakandan Prince doesn't wait for an answer and immediately searches for it with his bare hands.  This is a movie to show that you can never truly stop a team, only they can, and a true team is never stopped.