American Literature Students Create Responses to The Bluest Eye
As a culminating activity for finishing the award-winning Toni Morrison novel The Bluest Eye, students in Ms. Michele Collins 3rd period American Literature class were given the opportunity to work in groups to complete various artistic activities on the novel.  
These lessons ranged from making t-shirts to performing a rap that summarized the plot of the novel.  The students that performed the rap did so to the instrumental, current hip/hop song "Mask Off."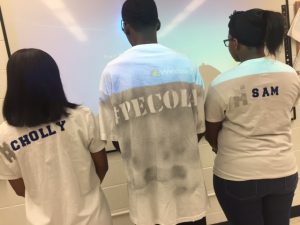 In addition, students planted marigolds and were able to see a couple of the buds beginning to bloom to connect with Morrison's use of seeds as symbolism for life or loss of life when the seeds in the novel do not bloom.
For one of the  assessments, each student was given pieces of Mary Jane candies; in which the reference of the candy represented one of the many themes throughout the novel – the theme of innocence.  
Of the multidimensional and engaging assessments, Ms. Collins said, "Overall, it was exciting to see my junior students really become involved with the novel and were very successful on their final assessment."