Hillcrest Teachers Receive Pork Grant
Two Culinary Art teachers from Hillcrest High School were awarded a sizable grant from the Illinois Pork Producers Association.  Hawks teachers Christina Botica and Jean Sweeney, both Culinary Arts teachers, are planning on designing lessons around the pork industry in Illinois.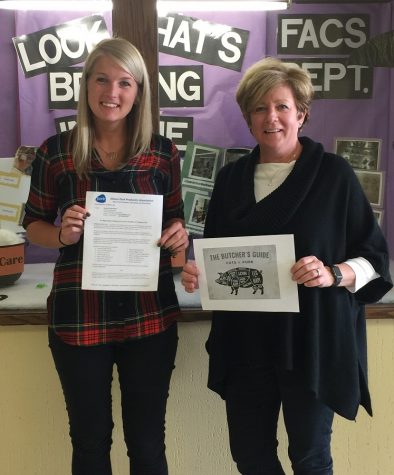 Tentative lesson plans include the study of primal and retail cuts of a pig, culinary labs studying the various cooking methods favorable for specific cuts of pork. A presentation from an Illinois pig farmer and a cross curricular lesson plan with Brenetta Allison's Anatomy classes are also in the works.
From the IPPA: The Illinois Pork Producers Association (IPPA) is proud to announce the recipients of the IPPA Inaugural Food Service Grant. This opportunity was presented to all Illinois high school culinary, food service and consumer education classes. The grant was created to educate students about pork production, in addition to cooking and eating tasty pork products. The funds are directed towards purchasing pork products to use in the classroom.
"Teaching students about pork production helps make the connection between raising animals and the food we eat," says Jason Propst, IPPA Board President. "Showing students how to properly cook pork shows them versatility in meals and introduces them to delicious flavor, which creates repeat customers."
For more details on funding opportunities, pork nutrition, and information about pig farming, visit www.ilpork.com.