Hillcrest Celebrates Homecoming Week
Hillcrest's "Passport to the World" Homecoming Week was a success. In addition to the spirit days, there were many successful activities.
The Wednesday night bonfire was fun, a great night to kick-back, listen to music, and relax with friends.  On Thursday, The Powder Puff game was won by the Class of 2019 (Juniors) with a final score 28-7. 
On Friday, we held a spirit-filled pep rally. The class game was also won by the Class of 2019. During the homecoming football game, Hillcrest held a carnival to raise funds to support the mural which is located on the north end of the school facing 175th street.
A huge "Thank You" goes out to Ms. Caroline Snyder (Social Studies Teacher) for her part in organizing the carnival. At the carnival students purchased goods and played games that included a football toss, the Japanese game Kingyo Sukui (Goldfish Scooping), free throw shooting and more.
In addition to the win by the football team, the homecoming dance was attended by over 600 guests. As usual, Mrs. Cardinal and Mrs. Molek and the Student Council were fabulous in providing Hillcrest with a homecoming to remember.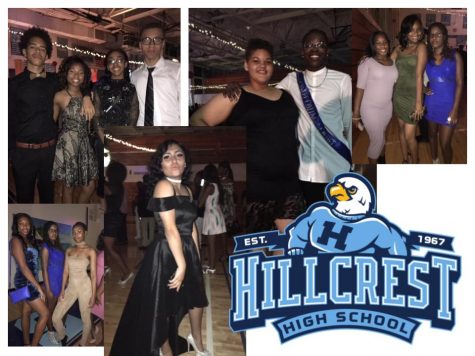 ---
Congratulations to the 2017 Homecoming Court
Representing the freshman class:
Naje Craft
Representing the sophomore class:
Alleah Morgan, Kendyl Johnson, Starr Branch and Delmareo James.
Representing the junior class:
Jade Anderson, Nishiya Saunders, Terran Whitaker, Derrion Boyce, Corey Crooms and Dante Mister
Representing the senior class
Peachshaiya Bailey, Shacora Bullock, Jalynn Montgomery, Juanita Washington, Anthony Cook, Robert Harvey, DaKari Smith, Derrick Watkins and Emory Young.
Hillcrest celebrates PJ Day for Homecoming Spirit Day! pic.twitter.com/CUkzJr4OGa

— Hillcrest Hawk Eye (@HCHawkEye) September 18, 2017
Color Wars Day! Senior: Kayla – Junior: Briana – Sophomore: Dion – Freshman: Talitha – Staff: Mrs Shelton pic.twitter.com/oNuYcngeS3

— Hillcrest Hawk Eye (@HCHawkEye) September 21, 2017
Wednesday Night's Bonfire was successful! pic.twitter.com/CXSuerCnGv

— Hillcrest Hawk Eye (@HCHawkEye) September 21, 2017
Senior Kayla and Junior Makayla #bleedblue on Spirt Day!! #Homecoming2017 pic.twitter.com/ihgJ9I0N46

— Hillcrest Hawk Eye (@HCHawkEye) September 22, 2017
#HawkFam2017 – you're missing out…. #Carnival #Homecoming2017 #HawksKnowHow2represent at #thehawkempire pic.twitter.com/OYZOUtLchX

— @Thehawkempire (@TheHawkEmpire) September 22, 2017
Nothing like a Hillcrest Homecoming!! Hawks win 33-7 over Tinley Park!! #HAWKPRIDEFOREVER pic.twitter.com/G8rcqIyATd

— HILLCREST BASKETBALL (@HillcrestHawkBa) September 23, 2017
#Homecoming2017 @TheHawkEmpire pic.twitter.com/ghM4rPU1Ny

— Hillcrest Hawk Eye (@HCHawkEye) September 20, 2017