Does Black History Month Still Matter?
Black History Month, also known as African American History Month, has been celebrated in the United States, Canada, United Kingdom, and in the Netherlands for over a hundred years. However, this nationally recognized month long celebration's importance seems to have diminished as times go on.
Many people in the Black community are beginning to care less about the event. Even schools in predominantly Black areas seem to have forgetten about celebrating the rich culture of African Americans. During my freshman and sophomore years at Hillcrest High School, which is in a predominantly Black area, my school had a Black History assembly. Unfortunately, that program seems to have disappeared into thin air over the past two years. Not only has Hillcrest done away with the program, but also the history classes on specifically on African American history. While reorganizing the history office, my friend and I found the old textbooks from those classes. When we asked why didn't we have these classes anymore the answer was, "there was no interest in it."
So this brings me to the topic of this article: Does Black History Month still matter to the Black community? I went around to students of various schools and also adults who grew up in the times when Black pride was at its strongest and asked them all this controversial question.
When I asked Aman Brown [An eighth grader at Southwood Middle School] this very question, he said, "It's not worth as much to our youth [Black] as it was before. Somewhere along the line respect for the African Americans that youth used to have went away and now it seems like it [is] another 'serious topic' that they can care less about." However at the same time, he stays adamant that the month does still matter to him; that it is celebrating the people that paved the way for Blacks and gave their lives for our rights.
There are others who feel the same way as Aman Brown does, such as Kaitlyn Cooper [Hillcrest High School senior] who says to celebrate Black History Month she posts daily pictures of African Americans and what they did or do to make a difference in the way people feel about us [Black people] on her social media.  
I also asked the pressing question that most African Americans have: Why were we given the shortest month in the year to celebrate our culture?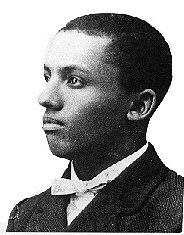 Carrington Small [Junior at Johnson College Prep High School] says "when people say that "they (whites) gave us the shortest month" that rubs me the wrong way because it feels like we're downing the month Blacks created. Blacks made it from being queens and Kings to being degraded to nothing to becoming the President of the country that treated you less than an animal." Carrington brings out the very valid point in that "they" didn't give us this month. In fact, an African American started Black History Week. Carter G. Woodson picked this week, later becoming a month in 1979, because Abraham Lincoln  and Frederick Douglass' birthdays are in the month of February.
He says, "What was extremely important then, is mildly important now, sadly. Blame it on whatever you want: The crack epidemic, Black on Black violence, racism, but at the end of the day Black History can't be important to anybody else unless the people whom it concerns makes it important."
Although many I asked this question to said that it very much still matters, there are also many who think is doesn't. Although many say it doesn't matter, they also insert that it matters in the fact that it brings awareness. However, the issue lies in the fact the the African American community does not repeat the history enough, like other races. An older African American such as Ronell Brown says, "The only thing Black History Month does is give Black folk the Cliffnotes of our history. You cram all this information in your head for one month, and when the month is over, it's back to business as usual."
Even some of the younger generation feel the same way as Mr. Brown, such as early Hillcrest graduate Demari Hudson who says, "I just feel like Black people can be their own enemy at times. I feel like we shouldn't have to be given the okay to express or represent Black history by being given a month out of the year." She feels that in a way the African American culture has become desensitized – that we have failed to properly acknowledge our full history – that we only focus on the highlights.
When it comes to the month of Black History, the question still remains. Does it still matter? The Black community is divided upon this issue and both sides have a valid argument.
When you think about Black history, we have to figure out whether the younger generation still cares. Even if you go around and ask what are your favorite African American figures. You are most likely to get the generic answers such as: Martin Luther King Jr, Rosa Parks, maybe even Oprah Winfrey.
So ask yourself this question. Do you still care? If your answer is "yes," then what are you doing to not only just celebrate your heritage for the month of February, but for three hundred and sixty-five days each year. If your answer is "no," then ask yourself "Why?"