Incredibles 2: A Review
The long-awaited film, Incredibles 2, premiered on the 15th of June 2018. It was then theatrically released throughout the United States 10 days after its premiere in Disney Digital 3D, Dolby Cinema, and IMAX. The film was directed and written by Brad Bird and is a sequel of Incredibles (2004). Incredibles 2 was a huge success after making about $1.2 billion with a budget of $200 million. The sequel had gotten 94% rotten tomatoes and a rating of 4 out of 5. Many critics, such as Sandie Angulo Chen of the Common Sense Media, had amazing reviews about the film stating that the film delivered "as much of the joy, pathos, and adventure as the original." After its release in June 2018, the film had set the record for "Best debut for an animated film" and the "Second highest-grossing animated film." Along with setting a record, the film won multiple awards like the Teen Choice Award for "Best Choice Summer Movie."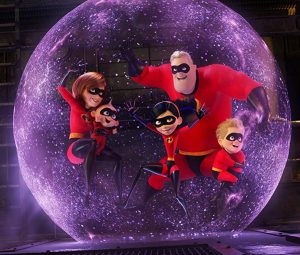 Incredibles 2 is an American computer-animated film produced by Pixar and released by Walt Disney Pictures. It is a funny, kid-friendly, and clever movie. The film is about a family, the Parr family, that have superheroes. The family tries their hardest to regain the public's trust in superheroes along with balancing their own life. The Parr family pursue the Underminer who robs the Metroville Bank and escapes. They successfully stop his drill tank from destroying the main city, however, the government discontinues the Superhero Relocation Program that leaves the family without financial assistance. After the incident, Mr. Incredible and Elastigirl were offered a job at DevTech by Winston Deavor. Deavor and his sister, Evelyn, propose a stunt that would regain public trust in superheroes which both Mr. Incredible and Elastigirl agreed to help. Elastigirl was assigned an important job to stop the Screenslaver from destroying the world. Meanwhile, Mr. Incredible had to deal with his children: Dash, Violet, and Jack-Jack. Dash has trouble with math, Violet becomes withdrawn after Tony, the boy she likes stands her up, and Jack-Jack has to deal with his wreckless superpowers.
I truly recommend this film to everyone especially those who have long awaited for this film to be released after 14 years. This film has become one of the best animated films watched by me besides Coco and Finding Nemo. I found the plot to be mind-blowing because it focuses on the idea that we all have to work together to get something done. I love how it portrays the fun and serious tone throughout the film. The film taught me to find my passion and to stick to it. It also reminded me that in this world, I, as an individual, am a role model to others around me. I love how all the old and new superheroes had worked together to stop the villain from pursuing what they wanted. Also, I admire how Mr. Incredible tries his hardest to be the best father he can be to his children while his wife was gone.

I enjoyed seeing the special effects and the funny scenes in the film. The film was hilarious for the most part. The part that gets me the most in the film was when Jack-Jack was copying Edna's facial expressions and physical characteristics. Incredibles 2 was on its game because it made people feel relaxed and made the movie experience enjoyable and pleasurable.
I honestly felt that the film has shown a great, meaningful, fun, and inspiring lesson to those who have watched it. It is a film that one can get a good laugh out of and get something out of it. It is also a good topic to talk about with friends and family because the film leaves you with a memorable experiences. I love the film so much that I watched it about three times. The sequel outdid the original and was so much more interesting.
I would recommend this film to anyone who would enjoy a good laugh.