Is it really time for college applications?
Are you a senior in high school looking for encouragement while going through college applications? Well, you are in luck!
College applications can be very stressful, but at the same time, it can be exciting. Every senior throughout the nation or even outside goes through the same exact process as everyone else. That means you're not alone! We all may feel overwhelmed with the college application process including that of writing millions and millions of essays. No, you don't have to write that much, but it does feel that way. It can be the most stressful and most exciting part of senior year when you're focused on it. College is a word that can be both nerve-racking and thrilling. However, the feeling of anxiety and excitement rushing down your body the moment you press the "Submit" button makes you feel accomplished.
Beginning with my first encounter…
"
In my experience, the first one is always the hardest."
My first encounter with college applications is mixed with so many emotions. I never thought college applications could be so stressful. When senior year started, I never felt worried and scared until my friends started talking about how they started or even completed an application. The feeling of being left behind immediately crossed my mind. The constant reminder of completing every bit of requirements for an application before the deadline and wanting it to be perfect and professional made me feel stressed. I would always want to finish my schoolwork ahead of time so I could fit in at least a couple of hours to get parts of my application done. However, after I submitted my first application, I didn't have any problems completing the other applications.
In my experience, the first one is always the hardest. The first one is what encourages you to keep going and never giving up on applying to the colleges that you want to attend. Weeks after applying to a couple of colleges, I got my first college acceptance. When I received a package in the mail from the college that I applied to and it said "Important," my heart rose
The moment I tore off the seal, removed the content, and read "Congratulations," automatically took a weight off my chest. All the stress and anxiety that you have to go through always pays off after you get your first acceptance. Your struggles always give you the best outcome.
Looking into the experiences of other students…
How did other students feel about the process of applying? Did they feel fine or stressed when completing it? I have asked a couple of seniors who have completed more than one application and got the insight of their experience.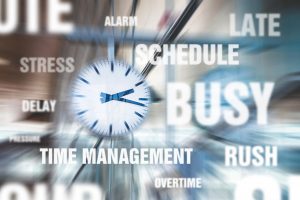 According to Makayla Coleman, her experience with applying to college was "very stressful." Coleman continued to state that "with having to focus on school and being involved with extracurricular activities," it was hard for her "to find time to complete the applications." Even though Coleman found it stressful, she was ultimately offered admissions to Indiana State University and Eastern Illinois University.
Also, as stated by Amari Littleton, college applications were a "little stressful mainly because of the deadlines that [she] had to meet." She goes on to state that upon completing applications "all of the stress disappeared" and that she "was ready to hear back from any of the colleges" that she had applied to. Littleton was eventually offered a spot at Loyola University and the University of Illinois at Chicago.
An insight from the College Counselor…
Mrs. Vela has been a college counselor at Hillcrest High School for two years and has done a great job helping students complete their applications. Mrs. Vela ensured that everything was submitted including transcripts before the deadline. According to Ms. Vela, the amount of students applying this year compared to last year was "a bigger success." 130 students have applied by the end of October and 45% reported to have been accepted to one or more colleges. Ms. Vela stated that "thousands of dollars were offered because students applied early." About $700,000 was offered to students who applied early including money for merit scholarships. Although, college applications month was a bit difficult, Ms. Vela hopes that there will be more students who apply and get accepted.
Thoughts from the other side…
The college application experience can overall be difficult, however, it prepares an individual for the future. For those who haven't started or those who are juniors looking for advice when it does come to that time to apply, I encourage you to start as early as possible. The earlier that you start an application the less stress you have to deal with and the better chance that you can get scholarships.