Hillcrest Students Learn Basic Wilderness Survival Skills!
Hang on for a minute...we're trying to find some more stories you might like.
The Hillcrest High School Library partnered with the Cook County Forest Preserve and Hillcrest's Fire Cadets to facilitate our first program for this year's '4 in 4' Book Club: Wilderness Survival.  Four members of the Forest Preserve came to Hillcrest and taught students skills such as fire building, knot tying, and identifying edible plants.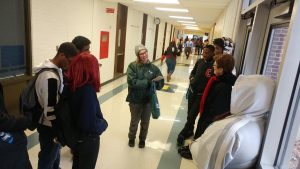 The Wilderness Survival program was created to introduce students to some potential hazards they may face in a dystopian society.  Inhuman, this year's '4 in 4' book, is a dystopia that features a virus which turns people into human-animal hybrids.  Books can be checked out in the Hillcrest library, and keep an eye out for more events related to the books!