What's the Best Christmas Movie?
Everyone has heard the old and beloved story of How the Grinch Stole Christmas by Dr Seuss. It has been created into two animated films as well as one live action film. Recently, a new Grinch movie was released, but the movie that I believe everyone should see when it comes to that story is the human version starring Jim Carrey that came out in 2000. The movie won two different awards for Best Makeup and Hair in 2001 and three different awards for Best Costume Design (one in 2000 and the other two in 2001) in addition to a Kids' Choice Award for Favorite Movie in 2001. Jim Carrey himself won four different awards for his acting: MTV Movie Award for Best Villain, Kids' Choice Award for Favorite Movie Actor, Teen Choice Award for Choice Hissy Fit: Film, and the People's Choice Award for Favorite Comedic Movie Actor, which were all well-deserved.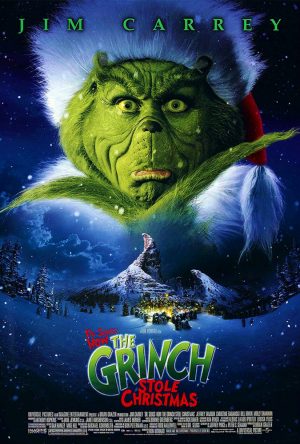 I am a big fan of Jim Carrey and his comedic ways and in this movie, you can only love his acting more or spark a new interest in every movie he's in. I've personally watched every single Jim Carrey movie all because of How the Grinch Stole Christmas.
In the movie, Carrey  plays an odd looking version of a Who, which is considered a person; he is green and hairy all over. The Grinch is an angry outcast due to the way he was made fun of so much as a kid. He was made fun of mainly because of how hairy he was. He was in third grade with a beard, and all the kids laughed at that. After the teacher suggested an exchange of gifts, The Grinch decided to make a gift for the girl he likes. He even went as far as trying to shave the hair on his face to impress her! But, his efforts failed. He ended up cutting up his face slightly with the razor he used and was laughed at. From there, his hatred of Christmas was born.
He ran away to Mount Crumpit to get away from the other Whos. Everyone else in Whoville loves the Christmas season. Every year, the whole town celebrates together and sings. Of course, the Grinch grew up hating all of their celebratory and wasteful ways, and, therefore, wants to teach them a lesson. This movie is filled with humor, love, and excitement, with an overall good message. It will have you giggling as well as smiling with warmth in your heart.
The movie has many reviews from children, parents, and big companies. Most of the reviews are good but there are very few that are bad. Some believe it "should be more heartfelt and touching than it is," as said by Steven Rosen for the Denver Post on rottentomatoes.com.
"It's the rare holiday movie that manages to entertain the kid in all of us, without forgetting that grownups love the Grinch, too," stated Steve Carrey for Atlanta Journal-Constitution. I believe this accurately described the movie.
Not only is this movie good for children, but it actually appeals to all age groups. Most people even watch it when it's nowhere near Christmas time just because it's that great of a movie. I recommend this movie to anyone who loves Christmas movies.
This is one beautiful movie, and the ending will have you close to tears. I have always loved this movie, and it is one of the handful of Christmas movies I watch annually. No matter what, it can always put me in the Christmas spirit. I love the songs they sing and the unique faces the Whos have, they make up these silly long words that sound interesting. I enjoy how the narrator speaks in rhyme, and even the Grinch speaks in rhyme sometimes. The movie is a joy for the whole family. It can teach kids not to be so ungrateful and cherish everything they're given. It can show that sometimes the person with the meanest attitude can actually be looking out for you in the long run.