Scrooge: The Musical
To conclude the end of the semester, the Drama Club recreates the magic of a classic Christmas story into their own version called "Scrooge." For those of you who don't know Scrooge comes from the Christmas movie,  A Christmas Carol (itself based on the novel A Christmas Carol by Charles Dickens). And in that movie the main protagonist Ebenezer Scrooge despises Christmas. So, this play focuses on his journey to find the true meaning of the holidays. Last year's plays Clue, Frostbite and The Audition were greatly received, so the anticipation for this year's play was on the high. 
 Not only have the students been looking forward to the play, but so have the actors and the production staff. With the play being produced by the Drama Club, Art Club, the Photography Club, and Mr. Polyak's Stage and Lighting Club, there were a lot of people to interview, but ultimately they all had the same mind set. 
"
Clear your schedule and make sure you don't miss it because I'm sure it is going to be just as a magical experience for you as it was for me."
Torrence Jones, a new cast member, was very humbled to be a part of the play. He described it as a "really fun experience," stating that his past high schools didn't have any kind of musicals or plays, so it was great to be a part of something meaningful. While both Monica Brown and Ariyana Scott are long time cast members, they too have the same thoughts. Both were content with their performances and had no regrets. But even though they are fully content with the way Scrooge came out they say that it still can't live up to last year's play of Clue with Brown stating that "Clue was Hillcrest's best play" and Scott in agreement.
Not only were the cast happy with the results, but so were the production crew. The play's main Director was Gregory Fitch with Jamilah Adebesin-Mason as Artistic Director and Mirko Polyak as the Technical Director. Mr. Fitch had great words for the cast and the crew. He was very impressed with how the cast performed this year. He told me that this play was especially hard because of the "difficult language" that the play required them to speak. And compared to how we speak as teenagers, he applauded the cast on not only being able to nail the diction of the play but to also do it with "character and style."
I was also able to speak with Mr. Polyak and get his insight on how the play progressed this year. Mr. Polyak was not involved in the play last year, but he went to see it. And while watching he noticed that the Drama Club were in need of some technical help, so he decided to aid them this year. And with his help they made this year's play quite a memorable one. 
 The play will be performed for a total of 5 days, with 3 showings on the week of December 5 and 2 final showings on December 12 and 14. I took the liberty of going to watch the play myself, and I can definitely say that is was worth the time and money.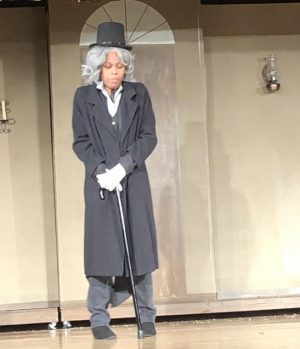 The cast delivered a great performance that sort of kicked off the holidays. As I was viewing, I noticed that I never got bored. Before there was any time to think of going on my phone, there was a new scene or song to keep me hooked. I'm sure I can speak for everyone that was present at the showing that it was worth both my money and my time. Seeing my friends up there and giving their all to show me a great performance made me feel inspired. It showed me how talented they are truly were. The story-line was both entertaining and heartwarming.
Sapphire Dill gave a striking performance as Scrooge, and Mecca Matthew as the Ghost of Christmas Present had great charm and managed to pull a few laughs from out of me. Some honorable mentions are Jamela Williams and Jamir Gordon whose voices were really memorable throughout the play. Their vocals were quite good, and I was impressed.
 If you are into meaningful and amusing performances then I would 100% recommend to go and watch the play. This was my first play to see of the Drama Club, and it made me regret not going to see the other ones. As of right now the last showing is Saturday, December 14, 2019 at 6 P.M., so clear your schedule and make sure you don't miss it because I'm sure it is going to be just as a magical experience for you as it was for me.