End of an Era! Saying Farewell to Mr. Hennessy
As many of you may know Mr. Hennessy will be retiring this year. This is truly a saddening moment for Hillcrest students and staff. He is truly a great educator and coach. Mr. Hennessy leaves behind a legacy of excellence and prestige that will be hard to follow. Mr. Hennessy will be walking across the stage just like the senior class, and will share his final goodbyes with his students before retiring and moving to his new home with his wife and dogs. Students and staff alike have nothing but good things to say about him – that's just how good of a person and teacher he is.
If you didn't know, in his spare time, Mr. Hennessy and his wife volunteer at shelters and provide them with canned goods that he gathers from his students. Not only is this a great way to give back to the homeless, but it is also a good way students could gain extra credit towards their classes. That's right, Mr. Hennessy was no stranger to good deeds; if you were struggling with class or needed some extra help with the material, he was always there ready to help. He also helped students as well, even donating to help one through school.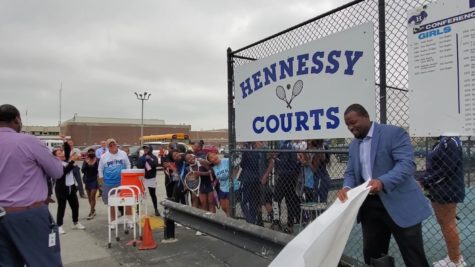 Don't even get me started on how good of a coach he was. He produced some great tennis athletes, winning many conference and sectional titles along the way. Some notable athletes he coached were Mariah Bates and Amara Wofford. In fact Mr. Hennessy had such an impact on Hillcrest athletics that our very own tennis courts have been renamed after him. That's right our tennis courts are now named Hennessy Courts in honor of Mr. Hennessy.
Did I mention that he's a great father as well? He has raised exceptional and successful daughters – putting both through school. He loves them dearly and talks about them quite often. I'm certain they are proud of their father's many accomplishments.
I feel part of the reason Mr. Hennessy is good at what he does is because of his engaging teaching methods and his humorous antics. He manages to turn some of the most boring material known to man into something interesting and relatable. He's very good at connecting past events to current events every day in class.
I must say I'm sad to see him go, but I am glad that I got to be a part of his final class.
Best wishes, Mr. Hennessy!