Building From The Ground Up
The pandemic in 2020 ruined multiple activities for students at Hillcrest High school. Sports and extracurricular activities got thinner, and the people in these activities became uninterested. One group in particular that had been impacted was the Hillcrest Marching Band. With the majority of the band being graduates of the classes of 2020 and 2021, remaining band members were left with questions because of the lack of upperclassmen and participation. The band had been left with one trumpet, one saxophone, one tuba, two bass drum players, and a drum major. Despite this setback, we have been able to persevere and eventually thrive. 
"
I can feel the change in the air and I'm hopeful."
— Ms. Chaney
Band director Ms. Chaney worked with what she had, and, in July of 2021, she started band camp with a full drum line and only about three new horn players. They pushed through and worked hard along with majorettes and flags. 
Unfortunately, during the third week of band camp, a member of the band got COVID and band camp had to come to an end. Horn players had to end up on drums that they've never played or even thought about playing before because of the situations they were in. 
Senior band member Kennedy Whitlow was one of those horn players that had to play. Kennedy states, "it was something new and I really wanted to do band, so I was willing to do whatever." People like Kennedy are why the band began to strive and move forward because she wasn't afraid of change. 
The dancers were also affected by this because of having to dance to cadences instead of songs. Kayce Mayo says, "Being that it was my first year as a majo, I was kind of disappointed because all the dances we learned – I felt that they were for nothing. But we still made the best of it, and it was fun." 
With everyone working together and the school year starting, we did what we had to for performances and pep rallies. With two band classes of students from freshmen to seniors, eventually, we were able to start working on actual marching music with a little instrumentation – we pulled it off.
Homecoming 2021 came and the drumline and major came up with a full field show and practiced hard to make sure they gave spectators a good show to just remember from them. Still to this day, people remember one of the cadences the drumline made on their own and always want to hear it. 
Khaleel, a junior who is now section leader says, "It was never a problem, and I just always wanted a band. When I first got here we didn't have a band and that was normal to me because I never played with a band but I wanted to experience it." 
As time went on, the band was out and always ready to perform. Being the drum major, I felt a relief that and a hope for the future. Marching band season ended and concert season started, and we finally had a band. We prepared for concerts and felt like we were at a good space, and we were!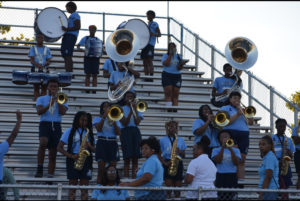 By June of 2022, enrichment started for the band and we finally felt hope for a full band: trumpets, saxophones, baritones, tubas, trombones, and returning drumline were all present. The majorettes and flags had full teams and the  captains were eager for the season.
Everyone was excited because we knew something special was going to happen. We took two weeks off and band camp started, and we were ready and working. With an hour and a half of PT along with about 4 hours of practice daily, we became ready for this season. 
Ms. Chaney says, "I felt hopeful because this year is next to normal – because it's not normal and we'll never go back to where we were – but it's almost there. I can feel the change in the air and I'm hopeful." 
So far in the 2022-23 band season, we have done parades and football games with an entire band. Everyday we're working, recruiting, and practicing to become and do better. We're working towards something big for 2022 to make our statement and our point that we're back!
Writing this as the Drum Major leaves me very excited for the next couple months to come ahead and to see where our hard work will land us. 
So to any coach, any club, and any activity, take it from us, don't give up no matter what you do, keep working hard and work with what you have and eventually the outcome will become better.
Bad days don't last always. Put in the work and watch what happens!