The Seven Husbands of Evelyn Hugo: A Review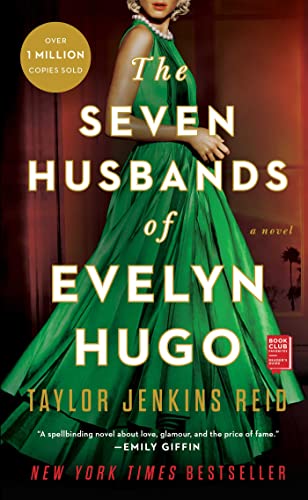 The Seven Husbands of Evelyn Hugo follows a young female journalist named Monique trying to find her big break in her career. When she's assigned to interview the most famous Hollywood star ever, Evelyn Hugo, Monique soon finds out dark secrets about Hollywood, Evelyn, and her own father.
This book is honestly one of the most interesting and engaging books I've ever read. It does a great job of making the reader feel like they are in the shoes of both Evelyn and Monique respectively. All the stories told from Evelyn's perspective are so interesting and at times jarring. From getting married to her gay bestfriend, being a closeted bisexual in the 50s and 60s, and having an abortion for the sake of her career,  this book is really a page turner. This was such an eventful read that I really enjoyed.
The author does such a great job of illustrating the plight of a young woman of color trying to make it in the world of Hollywood glamor. We see Evelyn dye her hair blonde, undergo cosmetic procedures, and change her name, all to fit in and be considered beautiful. This was really something most readers would resonate with especially if your existence is outside of the traditional beauty standard. 
This book also wonderfully demonstrated what it must've been like to be queer at the time. The main group of stars we follow throughout the story, Evelyn, Harry, and Celia, are all queer characters. The author does a great job of conveying the message of conformity and being forced to stay in the closet especially when we see Evelyn and Harry get married and have a child all to hide the fact that Harry is gay and Evelyn in bisexual— both of them being in committed relationships with members of the same sex at the time. This aspect of the story really brings hardships of the LGTBQ+ community to the forefront in a way that we usually don't see in media. 
However, the story is so much more than just that!
The book not only tackles being closeted, but also drug abuse, abortion, sexual assault, and domestic abuse. All of these topics are demonstrated so heavily throughout the book, and it really makes the reader feel all the emotions of the narrator. I feel that is what I enjoyed the most about it. The fact that I felt like I could feel the emotion of the characters and relate to them so much in certain aspects really made reading the book a wild ride and kept me on the edge of my seat.