Top 6 Christmas Candies to Enjoy Over the Holidays
Do you have a sweet tooth? Let me tell you some of my favorite holiday candies to enjoy with your friends and family.
6) Ribbon candy- Hard crunchy candy that mostly nobody likes. This is for an acquired taste only. I am guessing if you like olives, you will definitely like these.
5) Chocolate Oranges- A chocolate orange surprise. I really like these candies, they're definitely not my favorite candy. If you like oranges and chocolate you will definitely like this one. You can find these at Jewel Osco or Walmart and even Amazon. I would definitely recommend it!
4) Holiday M&Ms- chocolate covered in chocolate. You can never fail with a chocolate treat. Has a hard outside and a chewy inside.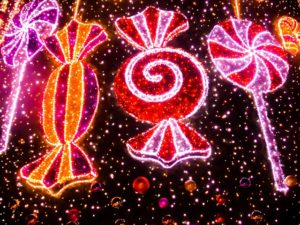 3) Christmas hard candy- This is what many would call a "grandma candy" they are usually at the bottom of your grandmother's purse. They taste like a 5 course meal when you are very hungry.
2) Christmas peeps- A soft marshmallow candy in the shape of baby birds. They are so cute and taste delicious, soft outside with sugar sprinkled outside. They are Christmas themed which makes them 5 times cuter. The perfect stocking  stuffer.
1) Peppermint- Everyone's holiday favorite. They hang from the tree and taste great in hot chocolate not to mention the delicious smell of peppermint. Peppermint flavors always taste good. Peppermint cake, peppermint bark, and peppermint tea. The list goes on. You should definitely try eating peppermint popcorn.
Have a great holiday and enjoy your delicious holiday treats!