Everyone is Talking About Wednesday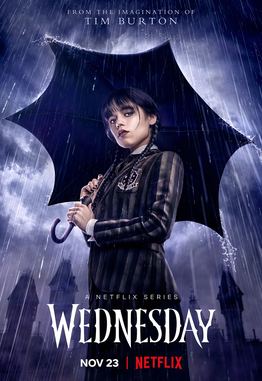 It is not a surprise that everyone loves a great show that they can binge-watch. A show that is so good that they end up finishing a whole season in one day. In the past, Netflix has put out great shows that have been the talk of the country because of how good they were. This time it is no different.
On November 23, 2022, Netflix released 'Wednesday', a show that would go on to surpass the 'Dahmer' series on the all-time Netflix ranking. The show took the world by storm as it showcased amazing storylines, acting, and an interesting plot twist. It is on almost everyone's must-watch list and here's why.
'Wednesday' is about a 16-year-old named Wednesday Addams whose cold, emotionless, and defiant nature gets her expelled from yet another school. Her parents decide to send her to their alma mater, Nevermore Academy, a school for freaks, outcasts, and monsters. Her personality makes it difficult for her to make friends, but it doesn't stop her from making enemies. There has been a string of murders by an unknown monster and that of course catches Wednesday's attention. She is in the process of writing another novel and knows that this mystery will make a great storyline.
She decides to investigate the murders and in doing so she reveals many secrets about the town, the people in it, and even her parents. Wednesday discovers she has inherited her mother's psychic abilities which aid her in solving the crimes. There is a love triangle between Wednesday and two other male characters, Tyler and Xavier, and when everyone thinks she has chosen the right one the unexpected happens. Wednesday uncovers the person behind the murders and is successful in ending their reign of terror… or so she thinks.
As a person who finished watching this show in two days, as did many others, I can truly say that this is a show worth watching. It will have you at the end of your seat wanting more and will leave an empty feeling in your heart when you finish the show. This show is full of so many twists and turns and will completely take you by surprise.
'Wednesday' was just released and everyone is already making speculations about season 2. This series has something for everyone to enjoy and is definitely worth watching.
The real question is: Will you be watching it?