Life After High School
It's getting close to that time where seniors think about that next step. Whether it's college, prep school, trade, or nothing, this is always a difficult time.
We talk about 12th grade all of our lives, but once it actually becomes reality, it is kind of scary and exciting. To know that you won't see the same kids you've seen since you were twelve everyday and that your friend group might split up is never easy to process. Being two months away from graduation is something you really have to sink in.
All the Friday night football games, prep rally's, homecoming dances, Friday night basketball games, and just being a kid are soon to come to an end. When they say high school goes by fast, I finally realize what they were saying – sometimes you wished you would've cherished some moments a little more. You really have to ask yourself the question, where I will really be in 2-10 years? Feeling like being a kid was going to last forever has hit the reality that you won't. 
March 2020: Being a freshman and hearing we wouldn't be in school for two weeks was okay – until we realized that we probably would never go back or things will never be the same. Losing the second semester of our freshman year and a whole sophomore year  made coming back as juniors like coming back as new people.
Not only were we new people, but we knew that it was about that time: time to talk about colleges, graduation, and prepare for what's next. Bryce says "I feel that the year and [the] couple months we had off prepared us for life after high school and to grow up because the time off challenged us to see how we could live life without going to school everyday. We had to learn a different way to stay educated. Some people had to fail, some people had to cheat, and some people stayed with it. So some got better and some got worse. Most of us wasn't ready for what had happened but others was ready to change that would make us grow." 
In two months, we'll be high school graduates – free for the summer and most of us a be leaving soon or some will stay. To see where everyone goes in the next couple years will be very interesting.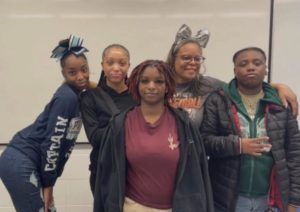 Life after high school has crossed our minds since COVID plenty of times. Sungie says, "I think it's going to be scary yet exciting and we're going to venture off into our new endeavors and just be lit. Honestly COVID made us lazy, so people don't want to work anymore or go to school so to see what happens to [us]  after will be interesting." 
Life after high school will be scary, new, and full of adventures, but I think my class is ready for the challenge. We've faced adversity and overcame it. We've lost classmates in the process and shed tears.
To know and say we're ready is two different things, but I feel we will do good.
So let's see where life after high school takes class of 2023.