Everyone is Talking About Queen Charlotte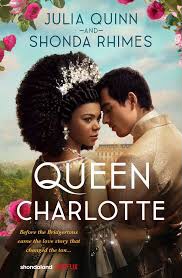 Love is one of the most beautiful things in the world. When you love someone you would do anything for them. But love can be dangerous, and can cause you to do things that you otherwise wouldn't. On May 4th, 2023, Netflix released the show Queen Charlotte: A Bridgerton Story. This shows the ups and downs of love and the things you will do when you're in love. 
The story starts with the arranged marriage between Charlotte and King George. The two meet on their wedding day when George finds her trying to flee their wedding by going over a garden wall. George assures her that she doesn't have to marry him if she doesn't want to and even tells her a couple of facts about himself being that they're strangers. Charlotte decides to go through with the wedding, and she is excited for what the future holds. As the night comes to an end Charlotte expects them to spend their wedding night together, but she is shocked when George wants nothing to do with her, and he insists that they live separately.
The first few days of their marriage they share little to no communication, and Charlotte can't seem to understand why things are the way that they are. Things are finally looking up for the couple when they share their first night as a married couple and start living together. Then the truth of George's distance is finally revealed when she finds out he is mentally ill. Distance forms between the two again when George takes extreme measures like isolation, torment, and traumatizing remedies to cure his illness so that Charlotte doesn't have to be with someone sick.
The love he has for her is so strong that he was willing to do anything to become better so that she can have the best husband. Little did he know that ill or not he was already the best husband. 
This show was so good that I finished it in one day. I was on a roller coaster of emotions while watching this and the ending broke my heart. I would 110% recommend this show as it has something in it for everyone. Younger children should be warned as there are some spicy scenes. And as always people are already asking for a season 2 which has not been announced yet.
Queen Charlotte is definitely on the need-to-watch list. The real question is: Will you be watching?