"Cozy Authentic Inn" at Hillcrest Serving Succulent Italian Dishes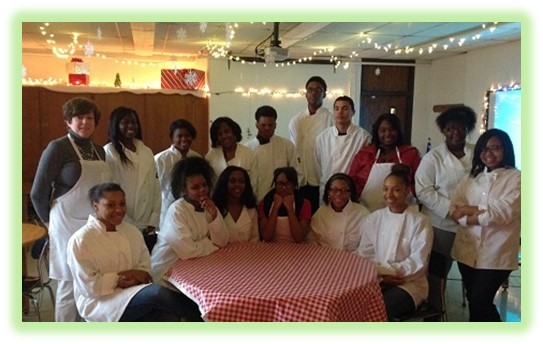 P. Stevens, Hillcrest High School Publicity Director
December 19, 2014
Italian-themed center pieces and a warmly lit  room created a cozy dining atmosphere at Hillcrest High School. Last Friday, Mrs. Sweeney's Culinary Management class unveiled a "One Day Restaurant"  to the Hillcrest staff.  The "Cozy Authentic Inn" was hosted to bring real-life experience to the classroom.
The main course menu selections included: a tender meatball sandwich, creamy chicken penne with alfredo sauce, rich spinach and cheese manicotti, and a traditional meatball plate. The dessert selections were a puffed pastry fruit cup, chocolate chip cookie sundae, New York style cheese cake and (the house favorite) Tiramisu!
The students working in the Front of the House and Back of the House worked together to make the day a HUGE SUCCESS.  The restaurant ran like a well-oiled machine.