Hillcrest Students Participate at South Suburban Leadership Conference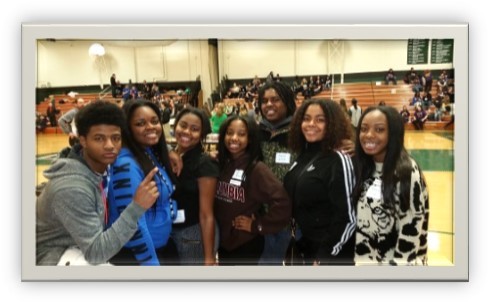 Student Council members and the National Honor Society leaders traveled to Evergreen Park High School to participate in team building activities on February 24th.  The students were joined by leaders from 12 other schools throughout the South Suburban Conference.   The groups discussed current issues in their high schools and enjoyed sharing positive events that are happening at their schools.
"
The students enjoyed working with peers from neighboring schools to perform some poignant current happenings of our schools."
— Mrs. Molek, Hillcrest Sponsor
They were able to collaborate on skit writing and act out the school issues.  The skits were based on bullying, sexual harassment, high drop-out rates, homelessness, lack of participation, race issues, vandalism, excluding/harassing underclassman, and empathy for education.
To add to the busy day, the group watched a moving motivational presentation on "Being the Catalyst for Change" by Scott Backovich. (http://scottbackovich.com/meet-scott/)
The day culminated with a sharing discussion on the reasons high school students do not feel like they can participate and ways to increase student participation in school events.
"The Hillcrest students were eager to learn strategies to increase and improve leadership skills needed to be an effective student leader in our school," said Mrs. Molek.
To find out more about Hillcrest's  National Honor Society, contact Mrs. Tate at [email protected].  For information about Student Council, contact  Mrs. Molek at [email protected] and Mrs. Cardinal  at  [email protected].