Anatomy Class Visits National University of Health Sciences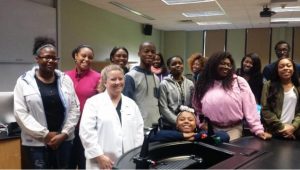 Mrs. Brenetta Allison's Anatomy students were excited to attend the National University of Health Science field school trip recently. This opportunity allowed students to connect classroom lab instruction with the reality of the human cadaver lab.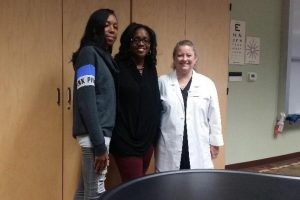 Dr. Weber, the lab speaker, gave an overview of the human body systems and functions using the cadaver and asked students questions as they engaged with the organs, muscles and tissue.
These Anatomy students have spent a significant amount of time using their lab skills for cat dissection to demonstrate knowledge of body planes, cavities and organ systems as a part of the curriculum. A out-of-school visit to the university allowed those inquisitive students to see how their developing skills connect to their possible future career choices as most students in the Anatomy class have a career focus in the medical field. This field trip allowed them valuable exposure to the level of rigor in postsecondary study as well as the opportunity to view the cadaver.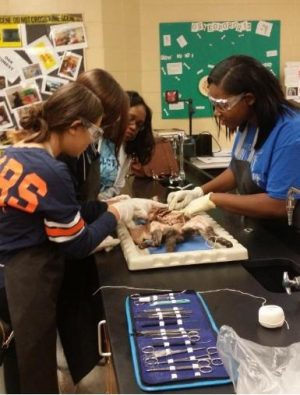 While visiting the cadaver lab, former Hillcrest High school graduate Jasmine Foster stopped by to take pictures with the visiting group. Foster graduated from Hillcrest High School in 1999 and completed her Biological Science degree at Tuskegee University in Pre-Med with a full scholarship. She then served as an Instructor Captain in The U.S. Army Air Force ROTC Unit. She is now enrolled in the doctorate program at National University Health Science focusing on Naturopathic Treatment. Foster spoke with the students to share her experiences as an undergraduate, the level of rigor in the doctorate program and encouraged them to seek a career in the medical field.
For more information on Hillcrest's Anatomy or Honors Anatomy classes, please contact teacher Mrs. Allison at [email protected].