Hillcrest Senior Kennedy Warfield Recognized for her Artistic Creativity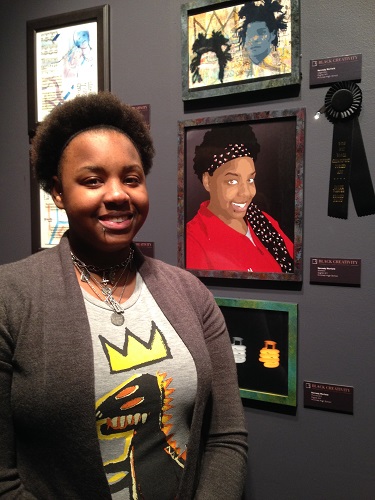 Hillcrest Senior Kennedy Warfield was honored recently at the Museum of Science and Industry's Black Creativity Art Exhibition for her artistic creativity. The "Black Creativity Juried Art Exhibition", presented 104 dynamic works from both professional and amateur African-American artists from around the country.  Kennedy has the distinction of being named on the Museum's web site for achieving 2nd place in the "Black Creativity in the Youth" category. Her piece was chosen over emerging artists and professional artists from across the country. To add to this honor, Kennedy earned a summer scholarship to the School of the Art Institute!
Hillcrest Fine Arts Teacher Jamilah Adebesin Mason, student teacher Camille Scott, and a number of former and current Hillcrest students, joined Kennedy to celebrate this special evening.  The gala evening started out with Kennedy, Mrs. Adebesin Mason and Ms. Scott, chatting with the President of the Museum.  They also had the opportunity to mingle with the Founder of the Black Creativity Exhibit, committee members, artists, and guests.
"Thanks to Mrs. A and Ms. Scott, I was able to achieve this award and celebrate all of my hard work," said Kennedy.
"Kennedy is a strong example of how artistic expression can promote positivity and knowing one's self-worth. She has been my student all four years of her high school career, and I have seen a girl flourish into an intellectually stimulating artist and young woman. She has a voice and speaks through her artwork," said Art teacher, Mrs. Adebesin Mason.
Kennedy's piece will be displayed in a dedicated gallery at the Museum of Science and Industry's "Black Creativity Juried Art Exhibition"  which runs through  February 22, 2015.
To learn more about Fine Arts at Hillcrest contact Mr. Keith Anderson at [email protected]