Beyoncé's Lemonade
The Queen is back! After a break of over two years Beyoncé has released her sixth studio album "Lemonade." Earlier in the year Beyoncé broke the internet with the release of her pro-black song "Formation," the day before her Super Bowl performance. "Formation" created controversy within the white community. Many white people felt it was anti-police, and she was starting a race war. They even tried to boycott her (which failed). Later on in April, Beyoncé stated that "Formation" was a song that represented where she came from and being proud about it, and that's what she wanted other people to feel.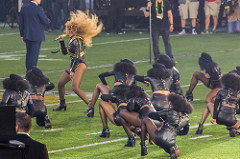 Enough of that! Since the release of "Formation" and announcing the Formation World Tour, the world knew an album was to soon come from Bey. With the tour starting April 27th, we all expected the album to be release before that, even though in April the days kept going, and there was no sign of an album. Until one glorious day, April 16, when Beyoncé released the trailer for her second visual album "Lemonade" with the date of April 23th at 8pm on HBO. The trailer had the internet going crazy.
After the week passed it was finally April 23th! It was time for Lemonade!
Beyoncé displayed many themes within "Lemonade." She started the movie off with the theme "Intuition" and that went with the song "Pray You Catch Me." With the visuals and "Pray You Catch Me" as the music, we saw a vulnerable Beyoncé talking about love, and infidelity. In the song, Bey wanted her partner to catch her eavesdropping on him cheating, and she wanted him to know she was aware of what was going on, singing the words "I'm praying you catch me listening, I'm praying to catch you whispering, I'm praying you catch me." Ending of the song with "What are you doing my love?"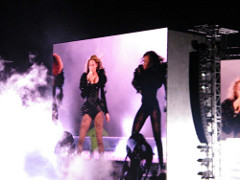 Ending the first visual off by jumping off a building and instead of her hitting the concrete she lands in water where we see a little scene of her stating all the things she tried to do to change herself for the relationship. After that, she opens a door and all the water is let out, and she's in this bright yellow dress. The dress is worn to imitate Oshun who is Yoruba's deity of fresh water, sensuality, flirtatiousness, feminine sexuality, love and fertility. The theme for scene two was "Denial," and that was accompanied by the song "Hold Up." Within the song Bey was expressing how much she loved her partner, and how she didn't care how crazy she looked, singing the words "What's worse, looking jealous or crazy? Jealous or crazy?" Also in this visual, she was seen walking down the street bashing things in with a bat with a smile on her face.
The second visual ends with her driving off in a monster truck and the camera cutting to her in a parking lot, resembling the parking lot of her video "Me Myself and I" off her first album. In the voice-over, Bey was stating how she was going to wear certain body parts of the lady that her partner is cheating on her with, and how they were going to all take a picture "together." For the third scene, the theme was "Anger" and was accompanied by the song "Don't Hurt Yourself." In the song she was telling her partner basically how she's going to move on, and he's going to regret it, singing the words "This is your final warning. You know I give you life. If you try this again. You're going to lose your wife." After she finishes this line she throws her ring off. But besides this being a song about anger, it was an empowering song for Black women. During this scene she included an excerpt by Malcolm X which stated: "The most disrespected woman in America, is the black woman. The most un-protected person in America is the black woman. The most neglected person in America, is the black woman."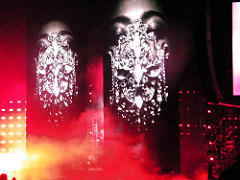 Now we get into the fourth visual with the theme of "Apathy" accompanied by the song "Sorry." In the voice-over, she talked about what her partner would say at her funeral when her cause of death was a broken heart. Ending the voice-over with "Ashes to ashes… Dust to side chicks." In the song, Bey had an unapologetic attitude, and stating how she was done with her partner, and she's happy, singing the lyrics "Middle fingers up, put them hands high, wave it in his face, tell him boy bye!"
For the fifth visual we have the theme "Emptiness" accompanied by the song "6 Inch." The song was another female empowerment song telling women out there to work and grind for their money, singing the lyrics "She gone slang. She too smart to crave material things. She pushing herself day and night. She grinds from Monday to Friday, works from Friday to Sunday." What I think people fail to realize although it is a female empowerment song, when you tie it back to the film this song represents "Emptiness." Which to me suggests that she's working hard, but there is nobody to share her wealth and success with.
For the sixth visual the theme was "Accountability," and that was accompanied by the song "Daddy Lessons." The song was dedicated to Bey's roots in Texas and her father. Her father has helped her become the star she is today, and in the song, she was stating what her father has taught her, singing the lyrics "Daddy made me fight. It wasn't always right, but he said girl it's your second amendment." In the visual Bey showed old footage of her and her father along with footage with her child, Blue, and her father.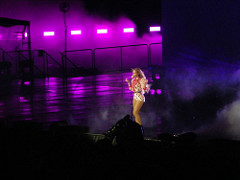 Now we get into a shift with the seventh visual which the theme was "Reformation" accompanied by the song "Love Drought." In this song, the relationship is evaluated as a whole, and Bey feels that their relationship is strong enough to last through the trust issues, and the insecurities, singing the lyrics, "Cause you and me could move a mountain, you and me could calm a war down, you and me could make it rain now, you and me could stop this love drought."
As Bey starts off the eighth scene with the theme "Forgiveness," we see with the view of a body of water and hear her saying "Baptize me," which symbolizes a new life with her partner, and a new relationship. "Forgiveness" was accompanied by the song "Sandcastles." The visual showed a natural Bey on the floor singing and playing the piano, and later on cuts to her and her husband, Jay Z, hugging and staring into each other eyes, showing that Bey forgave him, and they are trying to work things out. In the song, she stated how their marriage was tested and the promises Bey and Jay made they couldn't keep, singing the lyrics "We built sandcastles that washed away. I made you cry when I walked away, and although I promised that I couldn't stay, baby, every promise don't work out that way."
In the ninth scene, we have the theme "Resurrection" accompanied by the short song "Forward." It starts of with visuals of the mothers that lost their sons to police brutality. The title of the song is what the song is talking about: just moving forward and continuing life no matter what has happen. The song ties in to Bey's relationship and moving forward after the trouble in her relationship and the mothers who have lost their child to keep on moving forward after this hard time in their life, singing the words "Forward, best foot first just in case."
Now we get to the tenth visual with the theme "Hope" accompanied by the song "Freedom." This song was also another empowerment song for black women. In the visuals for "Freedom," there were many glimpses of powerful Black women. In the song, Bey was stating how she's going to break free of the restrictions that society places on Black women, singing the lyrics "I break chains all by myself, won't let my freedom rot in hell. Hey! I'ma keep running, cause a winner don't quit on themselves."
In the final scene, we have the theme 'Redemption" accompanied by the song "All Night." This was a song of triumph, Bey and her partner go through their troubles and are now happily in love again. The visuals for "All Night" were visuals of happy couples (straight, gay, and lesbian) and wedding footage of her and Jay, and even wedding footage of her mother. In "All Night," she also squashed the "fake" pregnancy rumors by showing a video with her bare baby bump. "All Night" ended with her saying "How I missed you, my love," which ties back to "Pray You Catch Me" in the first scene when she asks her partner, "What are you doing my love?" This shows that their conflict has been resolved and they are happy again.
"Lemonade" was a cohesive masterpiece; it told a story and will go down as one of her best albums ever. With Beyoncé being so personal. this album will relate to people and hit home, and make them feel. Beyoncé showed a new side that the general public hadn't seen before; she took a risk and did genres beyond her usual element and succeeded. Just when we thought she couldn't top her critical acclaimed, self-titled album "Beyoncé," she did so with "Lemonade".
"I was served lemons but I made lemonade."