Beyonce's "Formation World Tour"
Okay, ladies now let's get in formation! Pop legend Beyoncé is back on tour. On February 7th after her controversial yet iconic Super Bowl performance, she announced her "Formation World Tour." With tickets going on sale that following Tuesday, the "Formation World Tour" was a success. Beyoncé was selling out shows within minutes. The demand for her tickets were so high.
Due to the heavy demand she added more dates to certain shows (including the Chicago date) which I was very grateful for because I tried to get tickets for her first Chicago date on May 27th but it sold out quickly. When I thought my chance was over, she added another date, and now I will be attending the May 28th show. I'm very excited to see her live! This would be my second time! My first time seeing her was at the "Mrs. Carter World Tour," the day she dropped her surprise visual album, and I had the time of my life. Even though I have to wait until May 28th, I got a sneak peek of what to expect on the tour.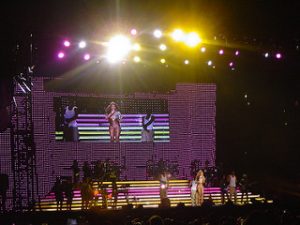 Here's a little about the tour based on some sneak peeks: She starts off the "Formation World Tour" with of course "Formation." She's dressed in gothic leotard with a big, black hat (even though for her hometown show in Houston she wore a leotard with a black panther on it) and smoke around her, with this big 12-foot LED cube behind her. I felt this was a perfect way to start off the tour, "Formation" is definitely a song that will get the crowd hyped and ready for the show. After performing "Formation," she went into one of her newer songs "Sorry" from her most recent album "Lemonade." I'm honestly so happy that this song is on the set list because along with it being a fan-favorite, it is definitely my favorite song on the album. In her hometown Houston, she performs the whole song instead of cutting off the second verse, and she also adds the song "Kitty Kat" after it, which is off her second album, I only hope that she does it that way for the Chicago show. She then performs "Bow Down," and performs "Run the World" with new choreography, but what's next to come completely shocks me. She added "Mine" to the set list and with it she started doing intense choreography.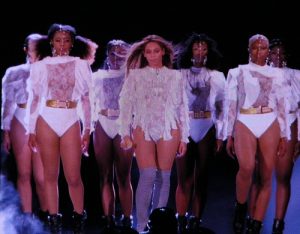 Ever since her stunning performance of "Mine" during the time she won the prestigious "Vanguard Award" at the VMAs, I thought she would never perform it again, but was I wrong. This is definitely a performance I'm looking forward to in May. She then goes into "Baby Boy" and does a little snippet of her unreleased song "Standing on the Sun." All these songs have an island, and Caribbean vibe to them, and to continue the flow she starts performing one of her newest song "Hold Up." Which is one of the fan-favorites off of "Lemonade." During "Hold Up" towards the end she samples a beat from her previous song on her fourth album "Countdown," and just like her fans, I wanted her to mash "Countdown" into "Hold Up," but knowing Beyoncé I thought that would never happen.
Skipping through the show one thing that surprised me was how early she put her song "All Night" on the set list. I definitely thought that would replace "Halo" as the closer since "All Night" was the closer on her most recent album "Lemonade," but I'm happy she's performing it. As she goes into an outfit change to perform "Don't Hurt Yourself," I must say the outfit at first wasn't the best out of her other tour costumes but recently she changed it to this beautiful gold two-piece leotard.
"Don't Hurt Yourself" live is perfection, I knew for a fact she would give her all performing this song, she growls and yells, and I can't wait to witness it live. What makes it even better is she goes right into "Ring the Alarm" after it which is another song she growls and yells on. One thing that shocks me is on the very first show she performed one of her most iconic hits "Single Ladies" then after that she took it off. This was strange to me "Single Ladies" is like her "Thriller" and for this to be a stadium tour I would've thought this would be a definite song that would stay on the set list. I honestly hope by May she puts it back on the set list it's just weird to go to a Beyoncé concert and not here Single Ladies. During one of her interludes when she makes an outfit change, her big 12-foot LED lights up in purple and she pays tribute to the late legend Prince, and during this his iconic single "Purple Rain" plays.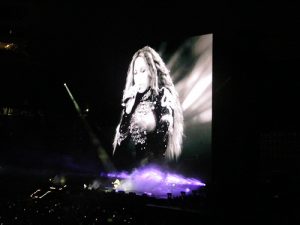 Now we get to the end she's in this sparkly, silver leotard and she's dancing in water. She starts off with another one of my favorites from "Lemonade" which is "Freedom" and she's dancing and kicking in water and I'm amazed. I couldn't think of any other way for this song to be performed. Then she does "End of Time", and her Destiny Child's hit "Survivor" in the water, and this was honestly such a beautiful touch to the show. Then, she concludes the show with "Halo" and tons of fireworks, but it was no surprise the song she ended the tour with was "Halo" that's her favorite song to end concerts with.
Overall, I do believe that the set list needs a few tweaking, and hopefully it does get a few tweaks before my show in May, but then again I'm going to be happy with whatever she performs, I just can't wait to see her live. She's one of the only artist left in the industry that actually have real talent, and I can't wait to get in formation in May.