Making a Change in the Community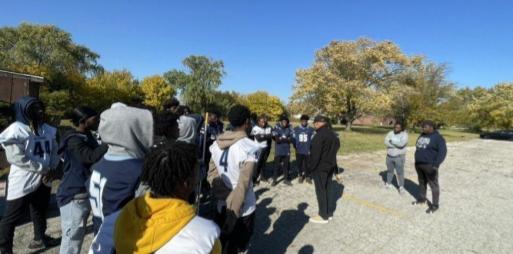 It was a tough year for the 2023 Hillcrest Hawks varsity football team. They managed to go 5-5 to end the season with a great and hard fought win against Oak Forest High school in the last game of the season and made the playoffs.
Playoff week wasn't any regular week. They had to travel 2 and a half hours to play against their opponent, but there was also another change to the week. They ended up doing something for the community.
They went not very far but across the street from their high school and restructured a church. They ended up tearing down what was a mini forest outside the church. It was a great time being out there. They were out there for hours working together and building a better bond by team working together. It was ultimately a great turn out. They got to speak with a security guard from the high school who actually owned the church. He explained to his life story and what he's been through, and gave insight on why he likes to impact the community.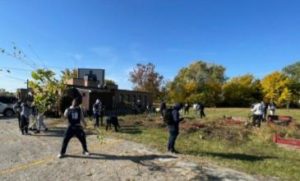 He told them how much it meant to him for them doing that good deed at God's home, and that one day that good deed would come back. A lot of players thought it was a great experience to be out there with each other, getting along, working together, and having snacks.
In the end, they said a prayer, ate snacks, enjoyed each other's time, took pictures and went back to the school building. A lot of people don't know what the Hawks football team did behind the scenes, as a lot of stuff goes unknown. That was one instance of the Hawks football team's good deed.
Most people wouldn't realize that, that "little" bonding moment and making a change in the community can help in games such as a playoff game. They got to work together and trust each other to get rid of the forest the same way they would do when trying to win a game.
Later that week, the varsity football team took their trip down to Rockford, Illinois to take on Boylan Catholic. They got there early a couple hours before game time and stretched and got prepared. Now, it didn't end how they wanted it to with a 30-0 loss, but it was still a great experience for them.