Varsity Bowler Headed to Regionals!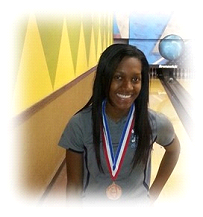 On Saturday, January 31, The Hillcrest Hawks Varsity Ladies' Bowling Team competed in the South Suburban Blue Conference Tournament where Hawks Senior, Denishya Waller, finished in 4th place.
"Though she may have fallen short of the top three, which was her goal, she still is keeping her head up and smiling. She acquired great knowledge from the event and learned that she can't allow distractions to cause her to lose focus again. Her mind is already set on the next goal…State.  Denishya has the skills and determination to make it to the State.  She has a pleasant overall attitude and fellow bowlers are taking notice and cheering her on." stated Head Coach Rob Davis.
"Coaches have been offering tips to me for her all season. I have even been approached by opposing team coaches expressing that they hope to see her advance to State. She is a great kid and deserves nothing less. She has the desire and drive; Bowling is her life." said Davis.
Denisyha will begin her quest to state this Saturday at the Regional tournament at Lakewood Bowl in Richton Park.