Get In the Holiday Spirit with Elf!
As the holidays are quickly approaching, it is fitting that we think of one of the most whimsical Christmas movies there is – Elf. Almost everyone has seen Elf starring Will Ferrell. The movie has been considered a holiday novelty. Around this time of year, you'll often find it on television throughout the week.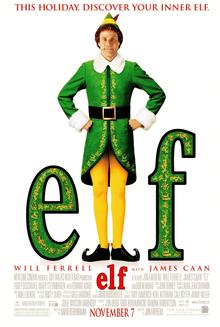 Just in case you haven't seen the whimsical movie, here's a synopsis of it. The main character, Buddy the Elf (Will Ferrell), was born an orphan and sent to live in the North Pole with other elves. He was raised by Papa Elf, whom Buddy thought was his biological father. From childhood, Buddy could tell he was different from all the other elves because he was average size, had some trouble building toys, and didn't fit in. One day, Buddy was building toys to be delivered by Santa in the workshop and he overheard two other elves discussing Buddy's true parents. Naturally, he was thrown through a loop of confusion. When he asked Papa Elf was he his son, of course he explained that he was an orphan and his real father was in New York City. This is when Buddy made the decision to take a trip to Big Apple to meet his father. Needless to say when Buddy arrived to NYC he experienced a major culture shock. He wore his elf uniform with pride and refused to conform to the norm.
Buddy finally met his father in his office by boldly going up to him saying "Hey! My name is Buddy and I think I am your son." Now imagine someone coming into your place of work that you've never met stating that they're your long lost son. You'd be a tad bit shocked, right? That's how Walter, Buddy's father, reacted. So, he wanted to take a paternity test to make sure this was true. The case came back conclusive and Buddy was Walter's son. That night, Buddy met Walter's wife and younger son. The son and Buddy instantly clicked and had a brotherly relationship. Walter and Buddy's relationship took a while to blossom into a loving traditional father and son bond.
Walter proved his love for his son towards the end of the movie when he needed him the most. Buddy was trying to save the Christmas spirit and help Santa deliver the presents on Christmas Eve. To do so, Buddy had to increase the Christmas Spirit around the world. The father put his pride to the side and sang Christmas carols on the late night news. Buddy knew from his father's change of heart that he truly loved him and that's all that Buddy wanted. He wanted a home and somewhere to belong. Now, he had a new family and managed to snag the love of his life, Jovie in the interim.
Elf is considered a Christmas classic because it reflects what the holidays should truly be about, love and giving to others. It's about being with your family and enjoying the time you have with them. Regardless of what holiday you celebrate, love should be the central theme for your celebration.
Happy Holidays and Happy New Year!