Crazy Weather in the U.S.
This year has brought along some of the craziest weather I've seen in quite a while. The Midwest has gotten 3 winter storms back to back to back. I honestly don't remember the last time I had to shovel at least 6 inches of snow three weekends in a row. Then, in Texas, the winter storm impacted them so badly that they had power outages and pipes burst. In Alabama, this same winter storm left frigid temperatures and people without water. Just before that winter storm, a tornado struck parts of Alabama as well. It only makes you wonder, is there more to come?
Winter storm Uri is one of the few winter storms that struck parts of the United States. With it came devastating amounts of snow, frigid temperatures, and, in some areas, bad ice. Because I am a resident of Illinois, we are prepared for snow storms or cold temperatures, but Uri was the third one we had in a three week period. It was also by far the worst one. During each winter storm, we had at least put down 6 inches of snow. Uri, on the other hand, put down in some areas over a foot of snow on top of the snow from the other winter storms that didn't melt due to the cold temperatures. Winter storm Uri caused many car accidents, burst pipes , power outages, and, due to the immense snowfall, even collapsed houses.
As Texans and other parts of the south try to recover due to this unusual weather phenomenon, it seems the U.S. is getting warm weather for once. Parts of the Midwest, who are used to seeing 20-30 degree temperatures, are getting temperatures close to 70 degrees. But with the warm temperatures can come even more dangerous storms. Before Alabama got the snow in February, it was struck by an EF-3 tornado in January. Fultondale, a city in Alabama was struck by this tornado. This city may sound familiar to some people as it was struck by an EF-4 tornado on April 27th, 2011. That was the tornado that went through Tuscaloosa. So for Fultondale, two pretty strong tornadoes in a 10 year span can be pretty bad. But with the warm weather all around the Midwest and the south, it can only spell for these types of storms to appear.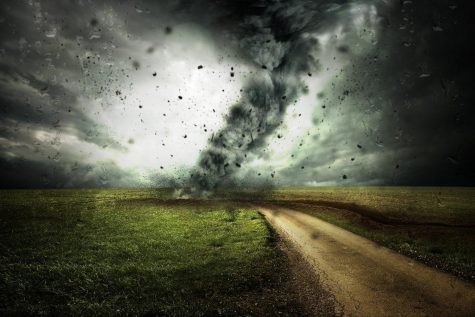 As winter comes to an end, I'll certainly look back upon it and remember the three snow storms that struck my town in three weekends. Me shoveling that snow was not enjoyable, but observing the effects of climate change was amazing. I know many Texans were surprised to see snow. I was surely surprised to see as much snow as I got. But due to this climate change, I can expect this spring to be pretty impactful and tornado season could be pretty big this year.
If these winter storms are this big and can affect this large of a span, I wouldn't be surprised if we could get a tornado outbreak of similar magnitude.