More To Know About Hillcrest
High school is what you make it; it can be either fun or boring. Here is some information on how you can make your high school years more interesting.
Hillcrest has always had a great athletics program. A great football program and an even better basketball program, but that's not all. Hillcrest has many more sports programs like bowling, cheerleading, volleyball, tennis, track and field, wrestling, cross country, softball, baseball, golf, lacrosse, and wrestling.
Not only do we have a wide variety of athletic programs, we also have many activities and clubs for students to engage in. We have over 30 clubs for students to engage in and try. I am a part of cheer, volleyball, culinary club, and 3 seeds. All these clubs keep me busy and intrigued in my school life, exposing me to new things and people. One of my favorite groups that I am involved in is 3 Seeds. 3 Seeds Mentoring Group is a group that helps you not only become a better you, but helps you figure out what it is you want to do in life. They have college and career ready courses you can take to better provide you with information on college, scholarships, and more. They also offer tutoring and extra help on your school work to make sure that you make it out successfully. Not only do they help you with college and your school work, aside from the work, we also have fun. We go on college trips, go out of town, have game nights, and many more fun activities you can think of. 3 Seeds always puts students first and makes sure we have a say in what it is that we want to do.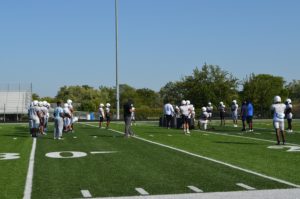 Another Hillcrest club is the National Honor Society. National Honor Society is a nationwide organization for high school students in the United States. The National Honor Society elevates a schools commitment to the values of scholarship, service, leadership, and character. Being in the National Honor Society means you are among the top students in your class not just in terms of academics but of leadership and character. National Honor Society is not only a valuable addition to a college application, but gives you many leadership opportunities which is great for both college and life in general. There are a lot of benefits to joining National Honor Society like it opens you up to college scholarships, joining will push you to get better grades,  get to build a network of smart students, and the honor society provides assistance for the college application process.
To conclude, Hillcrest High School has a wide variety of sports, like volleyball, basketball, and football and academic clubs like 3 seeds and National Honor Society.
Anyone should consider joining in effort to make friends or do better in school. And to top it all off the activities are actually enjoyable so next time you think about it, join a Hillcrest activity.