Stepping Up to the Mat
Starting in November, the new upcoming wrestling season has begun! But this year things are looking a little different. 
With a nicely stacked roster this year of freshmen and sophomores, the Hillcrest wrestling program is taking over many of their weight class in all of District 228.
The boys are learning fast, demonstrating, and representing what is is to be a Hillcrest Hawk. Many of us started off with no experience, workout clothes, and running shoes. For many of the freshmen,  sophomores, and juniors this year, this is their first year wrestling. Although wrestling is one of the hardest sports ever, it really prepares its wrestlers not only for the mat but for life.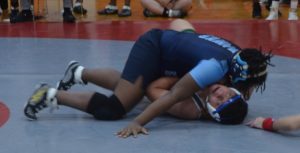 Wrestling really works on your mental health and your character development. It really pushes you as you become the person you are forming to be, disciplines and humbles you but betters your body's well-being.
Being in a weight class, you have to display discipline with the different foods you eat to maintain your weight. Practices are really intense, if you are someone that really likes good and hard workouts, and each practice is better than the day before. We learn different cool moves and techniques.
Also the wrestlers aren't the only one aren't up there having the fun, so do the managers! 
They go to all of the matches keeping the score for each wrestler, filming all of their matches, and cheering them on. At the practices, they make sure they take everyone's weight before each practice, have the equipment ready (if needed), and mop the match (sounds gross, but who wants ringworms?).
The boys are really like family and the wrestling room is a real welcoming place. We really push each other and want to see everyone succeed leading to their success down state. Hillcrest High School wrestling has not had a  down state trip in decades!
There are no tryouts, just come upstairs! Hope to see many of more new faces on the mat!